Wear a Suit and Vest with Style: Top Tips for Men
Wearing a suit vest can be an easy way for a man to add an exemplary vibe to his existing wardrobe. They are also the critical third piece of a three-piece suit, with the other two being (of course) the jacket and pants. Vests add a formal touch to any function, and they can be an excellent way to expand your existing suit wardrobe. Today the Oliver Wicks team will walk you through all-things-vest-related, so you can feel sophisticated and confident wearing a vest with style.

As we mentioned above, a vest is the third piece of a man's three-piece suit. Your country may know it as a waistcoat. However, it can be styled differently to create a more casual and alluring look by adding a sleeveless button-up garment that goes over your dress shirt but beneath your jacket.
If you're hoping to upgrade and expand your suit wardrobe, it's essential to know that just any old waistcoat will not do. Suppose you want to wear a suit with a vest. There are a few rules you need to follow, unlike with blazers vs. suit jackets, where you can't just slap one together, no matter the season or event. Don't worry. Everything you need to know about wearing your suit and vest with style is below.
Strictly speaking, there is a difference between a waistcoat and a vest. A waistcoat goes under a three-piece suit, and a vest is very similar. However, it is seen as a less structured and formal, stand-alone garment. All waistcoats are vests, but not all vests are waistcoats. For example, you wouldn't wear a men's suit vest with jeans, but you could wear an informal-looking vest with jeans or casual chinos that way, and you will pull off the smart casual look with ease.
However, almost no one, especially those in the U.S, uses them in this sort of way. It's similar to "slacks" but known as the evolution of the word.' Today, you will only hear it being called a suit vest for men - if it's part of a three-piece suit. Whatever you decide to call it, that's up to you. But don't think these options are closed to women. In today's day and age, you can vamp up your style and change it around as you please.
There are numerous vests styles available. You are bound to find one that matches your individual needs. For example, you may want to use it for puffy, sleeveless ski jackets or a specific type of men's t-shirt. In addition, it can be worn as a garment for items with a body but no sleeves. Although there are a large number of men's suit vests available for business casual or semi-formal, there are only a few you will find for formalwear:
Sweater Vest: A knitted garment shaped like a vest but with no buttons. Great for attending business casual events and are worn under suits in cold climates, though these are not quite the same as a formal men's suit vest.
Woven Vest: More or less the same as a sweater vest, but more casual and loose-fitting.
Tuxedo Vest: A more colorful decorative waistcoat under a dinner jacket or lounge suit, known as the "black-tie eventing" version of the suit vest.
Tweed Vests: A specific type of casual men's vest made from tweed. Tweed circles back to the vests men wore back in the day when hunting for dinner. Nowadays, you can think of tweed vests as the "nutty professor" look.
Garments are usually associated with these categories but do not mistake them for being the right clothing piece to wear with a suit, as garments should primarily be worn with puffer vests.
It's worth noting that you get single and double-breasted vest suits to align the waistcoat and suit style.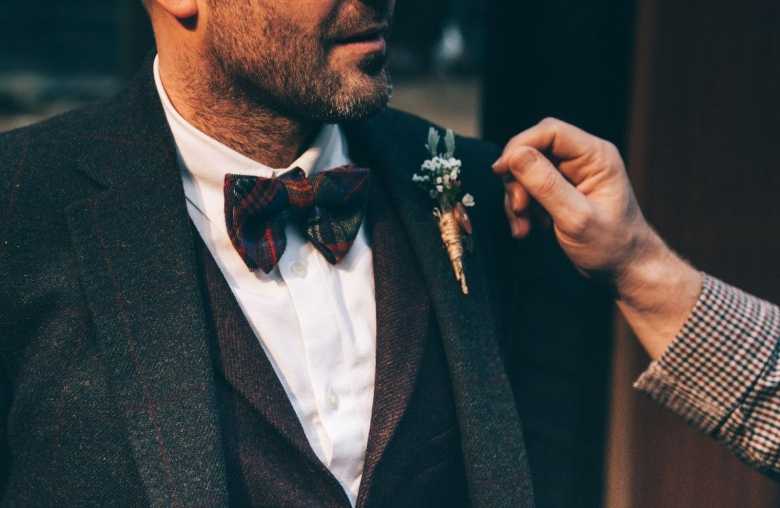 It's easy to dismiss the history of the waistcoat, but as a historical garment, its roots go deep- think all the way back to the Ottoman Empire! If you're keen to experiment with a suit and vest, it's important to get it right. So let's take a look.
If you want to wear a vest and suit combo, you will need to fit it as carefully as you do your suit. Remember, much of the true essence of style lies in a well-fitted garment that moves with you. The idea is for it to feel like a second skin. We have some fitting tips, as well as extra tips for measuring your vest chest in the correct sizes.
In short:
The armholes must be high under the arms for a smooth fit, but ensure it doesn't look too small.
The suit vest should be slim cut and tapered at the front. No gaps at the shoulders or flapping at the waist!
The typical neckline is a V, but a relatively high one. When your jacket is buttoned, your vest and the V should be showing. There will be a buckle at the back to help you fit the vest.
Your vest needs to be a careful balance of neither too long nor too short. It should stop about 1 inch below your belt loops when standing.
The vest for a suit should have high-quality buttons that blend well with the suit. There should be at least one more button than the suit jacket has, too. Be sure to eyeball the pockets and make sure they don't look off. There are typically two at the front of the vest, which is usually used for decoration. Your waistcoat should not be worn loose and flapping around- you should always close your vest. We're sure we don't need to mention this, but your vest should never be creased, either!
The easiest way to wear a suit and vest is to buy a three-piece suit. This way, you will receive a tailored waistcoat that fits you and exactly matches your suit. It's hard to go wrong with that. Typically, it's a "self" vest or one made with the same fabric as the suit. In general, this is a smart idea, and if you don't want to think about your suit vest too much, this option is for you!
Even when pairing a separate vest to an outfit, aim for the same fabric, or at least the exact grain, weight, and look of the fabric. This isn't a hard-and-fast rule, but it makes dressing a whole lot easier and minimizes the chances of a faux pas.
A fashion-savvy man can alter here or there to tie their look together to suit their style. For example, unless you are attending a funeral, a black suit vest can seem all too much black on top of a black suit. So you might pair another complementary dark vest to the suit instead. However, stick to the rule that patterned jackets get patterned vests and solid jackets solid vests.
The color wheel is for more than your bathroom paint! If you dare to experiment with color, remember the pattern rule. Typically, except for color-themed weddings, we advise you to avoid contrasting the men's vest and suit. Instead, try a complementary tone. Do be aware that your vest is meant to blend in, so wearing something eye-catching will be a daring statement. Typically, you should keep the saturation of the colors the same- deep, bold, jewel, pastel, washed out, it doesn't matter. Just don't stick a bright plum vest on a deep plum suit.
By far, the most common neckline on a men's vest suit is a V-neck. This enables it to show above the jacket when buttoned but not obscure your dress shirt. It also lets you showcase a bow tie or a luxury tie to complete your look. So 90% if you are asked, let your answer be "yes, I want the V-neck." If you are feeling experimental, there are a few other styles you can try but they do fall short next to the good old V-neck. And yes, you can wear a suit with a vest and tie, it's never one or the other.
A three-piece suit combo is already quite a lot for the eye to take in. You don't want to go overboard on accessories. However, that doesn't mean you can't wear anything. Suspenders are great if you don't want to opt for a belt and honestly fit the "vest look" better than a belt. As always, smart but sophisticated men's jewelry and a good watch can fit into the look. So do luxury sunglasses. You can add a pocket watch to your vest for a quirky touch.
We've looked a little at the color issue above, but let's recap some standard combos. Although sometimes a little dour, a black suit with a vest is a safe, formal option. It's a good idea to style this one slightly informally, so you don't look like an undertaker.
A gray suit vest works well with almost any suit if you want a complementing color, so try it with navy, black, and red. On the other hand, if you're going to smarten up a business casual look, a gray vest with a blue blazer and gray pants looks suave.
A men's brown suit vest will go well with brighter or lighter blues, while a gray suit/black vest combo works for hotter evenings. A white suit vest can be difficult to style but is a cooling option for the eye if you're experimenting with bold shirt colors- remember, you don't want everything to be a statement piece! It's easy to go too far and make your sophisticated outfit look gauche instead, so remember, less is more when in doubt. A self-colored vest is perfectly acceptable and something you can't go wrong with.
Now you know how to fit, choose, style, and dress in a suit vest. This versatile addition to a man's wardrobe is fun and can be immaculately styled to add sophistication to a casual look. So have fun, and don't forget that the Oliver Wicks team is always here to help you with your vest-related questions.