Tuxedo Style Options
Four different ways to shine
For many gentlemen, the Tuxedo, also known as the Dinner Suit (or somewhat less precisely, the Dinner Jacket) is the pinnacle of smart menswear. Indeed, although more formal types of suit exist and are still used, such as the Morning Suit, by modern standards the Tuxedo is probably the most formal suit type that is most regularly used and readily recognised - it is, after all, what Hollywood types wear to the Oscars, and what the Oxbridge set turns to for attending glamorous parties.
As the "Dinner Suit" moniker suggests, the Tuxedo has its origins in attending formal dinners. That said, the terms formal, informal, smart and casual are all somewhat relative; the dinner suit was actually considered a more casual form of dress compared to the Morning Suit and other more formal attire worn in the daytime by gentlemen of the 19th and 20th centuries, but at the same time, dinner, and dressing for the evening, was a more formalised affair on the whole. Hardcore menswear zealots will still tell you that a gentleman should change into his dinner suit after 7pm, but of course, we're not in the 19th century anymore!
Regardless, the dinner suit has survived as the go-to gentleman's attire for formal dinners and evening events; essentially anything where it is requested that attendees wear "Black Tie", which is the overall term for this practice and refers to the black colour of the bow tie traditionally worn with such an ensemble. There is also the now rather rare and more formal White Tie, but we'll leave that for another time!
Un-Conservative Blue *
While traditional Black Tie dress is...well...black, over the years a few adventurous types have occasionally experimented with very dark colours that are close to black, achieving the dark silhouette with a slight hint of something fun and a tad rebellious! Dark shades of blue have become acceptable, particularly in the modern era. This dark and deep, yet saturated blue will make you stand out while still keeping in the spirit of Black Tie. Avoid anything brighter than this! While you're being less formal and more playful, you might as well opt for a shawl collar lapel.
SEE MORE
* Not just for liberals.
Bond-ish Navy
Navy Blue or Midnight Blue has become a widely accepted alternative option to the black Tux. More rakish than black, but less rogue-ish than a more colour-rich blue, a Navy dinner suit will stand you in good stead in most circles. This has become particularly popular since Daniel Craig's portrayal of James Bond starting wearing dark blue dinner suits!
SEE MORE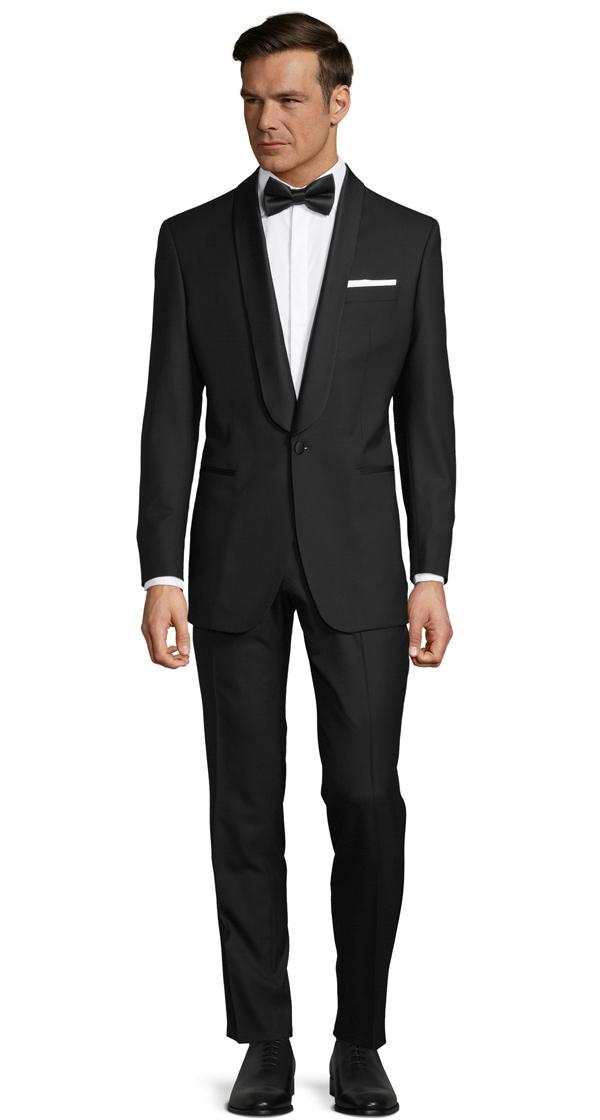 Conservative Black
This is the most traditional option and the go-to for most gentlemen. You can't really put a foot wrong here, so it's a safe bet if you're new to formal events, and while some Black Tie events are flexible enough for variations, if the invite says Black Tie: Formal, then black is sure to fit the bill.
SEE MORE
Tropical Flair:
The White Dinner Jacket
Speaking of James Bond, he's been known on a few occasions (usually when visiting tropical locales) to wear a white or ivory dinner jacket with black formal trousers. This practice arose from gentlemen attending formal events in warmer climates and is generally considered acceptable in hot weather or summer months. It's a more casual jacket style better paired with a cummerbund, and easily suits shawl collar lapels, although peak lapels are also fine and look quite sharp with the pale fabric. Note that the trousers paired with such a jacket should still be formal dinner suit trousers (with a strip of fabric covering the outer leg seam, and no cuffs) rather than just ordinary suit trousers!
SEE MORE
Tuxedo Shawl Collar vs. Peak Lapel vs. Notch Lapel
Peak lapels are most traditional and most formal, so if you want to be sure of getting it right, go for a peak! A shawl collar lapel is perfectly acceptable for most Black Tie events, although it is much more casual - unless you're meeting Royalty you will probably be fine with it, however. Notch lapels traditionally are a no-no on a Tuxedo, as these are intended for the regular lounge suit. Pockets should always be welt pockets; avoid patch pockets and trouser cuffs as these are innately casual features.
More conservative: Peak Lapels
Perfectly acceptable: Shawl Collar
Not traditional: Notch Lapels.

One-Button vs. Two-Button Tuxedos
The traditional dinner jacket has a one-button fastening at the waist for a lower buttoning point and a cleaner look. However, the one-button fastening can be somewhat unsympathetic to men of a heavier build, in which case, there's no harm in opting for two-buttons. Three-button Tuxedos are a faux pas and to be avoided at all costs.
Most traditional: One button
If you're yet to start that diet: Two buttons
Avoid: Anything else. Three buttons is a big no-no. Double-breasted tuxedos are trendy but very difficult to pull off in practice.

On The Delicate Matter Of Vents
Traditionally the dinner jacket features a ventless back, again for a cleaner look, however, this can be unflattering on some men - if you are comfortable describing your posterior as slender, you might consider trying the traditional ventless option. But with that said, we've heard stories of old English tailors arguing the point that ventless is all vanity and no function, and that twin vents, while not traditional, is actually their preferred choice. At any rate, double vents and single vents are both acceptable alternatives for the modern gentleman.
More traditional: No vents
Your best choice: Double (side) vents
Also fine: Single vent

Colours & Accessories
Remember with Black Tie that although colours are acceptable to an extent, this can sometimes be difficult to pull off well and is not traditional - whether a non-traditional approach is taboo or not depends on who is inviting you to what event; if it's ultra-conservative in tone then play it safe.
If in doubt, choose black and white! A black bow tie and cummerbund is always acceptable, as is a white pocket square. As a rule of thumb it is most sensible to opt for a black bow tie (because it's a black tie event!), preferably made from silk. A cummerbund and pocket square are better areas for colour experimentation and would also be preferably silk, although we'd advise caution here and perhaps choose one of the two items to be colourful. Plains are also safer than patterns and we'd advise that, if you must have a patterned item, pick just one.
A Word On The Waist
If you want to look your best in Black Tie attire then a little word of advice; keep your waistline covered at all costs. Yes, you may see movie stars attending award ceremonies wearing just the jacket and trousers with no cummerbund or waistcoat, but quite simply; they're doing it wrong! The join between trouser and shirt is prone to rumples and is generally somewhat inelegant, making it completely counter to the aim of a good dinner suit, which is all about elegance, smooth lines, contrast and monochrome consistency, and eye-pleasing shapes.
Wearing a belt is not at all advisable with a Tuxedo, traditionally the trousers are held up with a pair of braces (suspenders, if you're American) - until recently these had fallen out of fashion, but are now experiencing a trendy revival along with smarter dressing more generally. Some men, however, do find braces uncomfortable, in which case your best bet is making sure the waist measurement of your trousers is spot on! Any Oliver Wicks trousers can be made with braces buttons sewn into the waistline to allow for the use of braces.
A cummerbund is the least formal but mostly widely-used and easily-sourced option, it's believed it may have originated from the habits of devil-may-care cavalry officers (probably Hussars, who traditionally wore a sash with their uniform) and/or by military gentlemen attending events in warmer climates, such as India (where the word is believed to have been derived from the Hindu "karmarband"), where a waistcoat was too stuffy. It was originally just a silk sash tied around the waist. Now though, it's a purpose-built item with an easy-to-use fastening - just make sure you wear it with the pleats facing upwards. Although the origin is probably more flamboyant, black has become the conventional colour option for silk cummerbunds, although coloured variants can also be acceptable - just avoid matching it to the bow tie or pocket square (unless the bow tie is also black and the same material, of course).
Please bear in mind that all we are writing here is advice! We do talk about menswear or Black Tie "rules", or that certain things "should" be worn, or are "better", a certain way, but it's important to remember these are guidelines of best practice and that they are there sympathetically. We, after all, do want you to look your best, and sticking to some simple principles is the easiest and quickest way to achieve this with little effort or fuss. And once you've got it sorted just one time, you always know what to put on next time you have a formal event to attend!