Types of Suits Every Stylish Man Should Know How to Wear
Are you a suit guy (or do you wish you were)? This essential style guide is here to help you discover the different types of suits and how to wear and style them like a pro.
If you're new to the world of suits, you may be surprised to learn there's a lot more to them than simply a jacket and a pair of pants – everything from the way the fabric is cut to the number of buttons can influence how a suit looks to the eye and how it feels on the body. As with anything fashion-related, trends come and go, but style is forever!
That's why we're going to break down how to fit your suit to your body (the right way). We will choose a style that suits the occasion and know what's working and what isn't working for you. Whether you're looking for types of wedding suits or want to up your office game, we've consulted with the experts from the Oliver Wicks team to bring you only the best tips, advice, and insider knowledge on all things suit-related.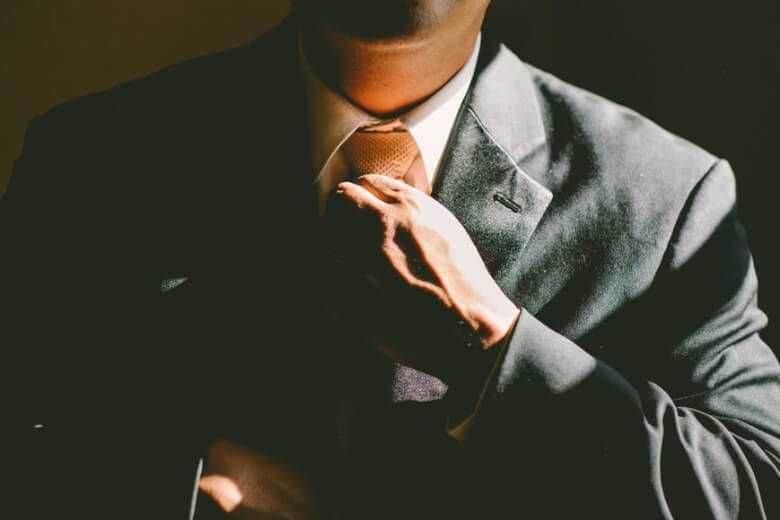 If you've ever dipped your toes into the fashion world, you're probably feeling overwhelmed with information. Even if you thought you knew which suit types you needed, chances are you're now doubting yourself! So let's start with the bare basics.
Online galleries, magazines, and even articles like this showcase suit styles on a model who looks great in the suit. That makes sense, right? However, not all men are built the same, and your build can heavily influence what any article of clothing looks like on you. So don't be so dazzled by how good a suit looks on a model that you don't consider how it would work on you. While it's not always possible, it's helpful to find models who look like you.
When you know your body type, you can use it to your benefit. Say you have lovely, broad shoulders, but you're heavier in the waist than you'd like. The idea is to find a suit that showcases your good points while drawing attention away from the bad.
To do this, you're going to need to know your overall body type. While many men's body typing (somatotypes) is geared to fitness, we suggest you start with this helpful article which will help you understand how your body type ties into how and where you gain and lose both muscle and fat.
Armed with your body type, we'd suggest you then look at your body shape. You may be more familiar with women – both the "hourglass" and "pear" are famous female body shapes! While men don't have curves, you still get body shape variants. Men have five loose body types:
Inverted triangle
Triangle
Rectangle
Ovoid
Trapezoid
While it's possible to have characteristics of a few, you'll typically find that one dominates.
You're still not quite there! There's one last characteristic to consider, and that's how you'd type yourself from the list:
Average, tall, or short height
Heavyset, moderate, or thin weight
For example, you could be short and thin or tall and average weight.
Two last qualifiers can affect how clothing sits on you:
You're asymmetrical – All of us are asymmetrical at some points. However, if you have a notable asymmetry, like one shoulder, which is slightly higher than the other, it's good to know so you can choose clothes smartly. Using a made-to-measure service like Oliver Wicks for your suits can be remarkably helpful if you have notable asymmetry, as you can compensate for it quickly without retroactive tailoring.

You're muscle-bound – Not all "athletic" or "muscular" figures pack on muscle to the point it affects fit, but you do. A man built like the Rock isn't going to find items like well-fitted shirts and jackets as easily as a "normally" muscular man, so he needs to dress smartly for his body. Is this your body type, too?
Why does all of this matter? You'll see a lot about the ideal fit of a suit. However, some bodies simply aren't made the same as the Joe Everyman who's used as an example when we talk about fit. It's good to know how to adapt those tips to the body you have, rather than trying to force yourself into something generic. There are tons of tips and tricks to dress for your body type – too many to go into detail with here, but that useful article will help you get started.
Our experienced suit wearers already know how important personal style is when choosing formal suits. For those of you with less suit mileage under your belts, don't get so caught up in dressing "right" for your body that you don't dress comfortably for your soul, too. Some men are all about shiny things and bright colors, and others wouldn't be caught dead in "fancy" stuff. Some people will jump into a tuxedo at any opportunity; others would have to be bribed to wear it. Some people like to keep up with fashion; others want to be classic. Your taste does matter, too, and you should aim to accommodate it as much as possible in your wardrobe. When you feel comfortable, you wear your clothes better and look more confident, too.
There's one caveat to Fact 3, and it's only good manners to dress appropriately for the occasion. You may feel that jeans and a band tee are your best personal style, but pitching up to a dinner date where your partner is in a cocktail dress and heels dressed that way is just rude. Likewise, you can't roll into your accounting job dressed in Vans and cite personal style as the reason.
Sometimes, having a personal style isn't about demanding you wear a particular thing every time. It's about how to take what's expected - like a tuxedo at a black-tie function - and wear it the best way possible for your body. Classy men aren't elegant just because of what they wear, and they're classy because they know when and how to wear them, too.
So, now that you know more about yourself, let's take a closer look at the types of suits for men.
One key feature of men's suit designs is how they are cut to fit the body. Note: That's not the same as wearing a suit tight or loose – that's often a sign of a poorly fitting suit! Instead, it's about how much excess fabric has been deliberately included as a style choice.
Slim-fit suits have next to no allowance for excess fabric. It's narrow at your chest and waist and tapers along your body. It's great to showcase a body you worked hard for, but it works on a wide range of body types. It's not just for the athletic. You do, however, have to be ok with showing the body's natural contours.
Think of a sleek jacket and tapered trousers. Typically, you'd pick it for more casual styles and avoid it for formal spaces like the office, although that has been successfully circumnavigated often as with all fashion rules. It's trendy in modern men's suits.
The clue is in the name! This is the traditional men's fit of the suit and the loosest fit currently available. It's versatile and found in a wide range of men's suit designs, from semi-casual to the most formal. It's great for the office and plays. The suit is roomy without feeling loose and sloppy.
This is the best option for you if you're not sure what types of fitted suits for men work best for you yet. It sits in the middle of the other two suit types we mentioned, not as tight as slim fit but still more fitted than classic. It transitions easily to any occasion – work or play.
The lapel of your suit is the (roughly) triangular fold of fabric around the neckline. Lapels create a very subtle but present effect on how men's suits look because they catch the eye and draw attention to the face. This means you can use a "fuzzier" lapel to pull eyes up to your face or tone down the look of a suit with slim, neat lapels.
This is the most common type of lapel you will find. There's a V-shaped notch or indent very close to the collar–lapel line. It's seen as the safest lapel choice, as it's ubiquitous and appropriate anywhere.
Think of peak lapels as fancy notch lapels. They have an indent at the same place, but it's a sharp, upward, and elaborate edge – not a mere little "V." It's a style that is found widely and is seen as very sophisticated and high-end. It's near-standard on double-breasted suits but also suits many single-breasted jackets.
The shawl lapel is widely used on many types of tuxedo suits, so you'll probably recognize it from there. It's a smooth, continuous swathe of fabric at the lapel with no shaping and is often made with satin or another high-contrast fabric. It's heavily associated with black-tie eventing, so it projects a very sophisticated look but not one for the office.
The way your jacket is designed (called the "structure" of the blazer) is another key element in how you can wear and style it.
When we say "suit jacket," this is the style you'll inevitably picture. There are two to three buttons down the center, and they're in a single row. It's a type of jacket that strikes the eye as formal and is heavily associated with men's office wear. It's also good at elongating the torso and making you look a little taller, which is great to even out your proportions.
Did you know that you aren't meant to button all buttons at any point? The middle button of three, the top of two, or the single of one is permanently closed while standing, and the lower buttons are never fastened. It's also proper etiquette to unbutton your jacket when you sit.
Double-breasted suits are an eye-catching alternative. What you will notice immediately is the double row of buttons at the front. It's also cut differently, almost as a bit of wrap-around at the front. Buttons vary from four to eight, with six being the most common.
Double-breasted suits are becoming more and more popular in fashion-forward and Europe. They can be elegant and sophisticated and provide a semi-militaristic look that can be fun to style. As with single-breasted men's suits, you leave the bottom buttons open and button the top. If you're looking for a "personal" type of suit, this could be a great pick!
No list of different types of suits for men would be complete without noting the unstructured blazer. Here, the jacket is designed with little-to-no padding, so it has a softer and flowing fit. It's not the proper cut for formality! It's seen a lot in stand-alone blazers, especially those designed for hotter seasons. Because of the lack of self-form, they can crease and wrinkle easily, so they need to be well cared for to look good.
Tuxedos are a type of suit on their own, used for black-tie events and very formal weddings. While the cut isn't that different from the others we mentioned, what characterizes a tuxedo is its satin accents.
We know you want to wear your suit, not make it, but understanding a little bit more about how the Oliver Wicks wizards will create your new piece can help you a ton with finding the kinds of suits that look great on you. Canvas is a stiff and scratchy fabric by itself, but you never actually touch the canvas of your suit. Instead, it's part of the carefully constructed inner layers that help your jacket look and sit the way it's meant to.
Most suits, especially made-to-measure, use full canvas designs. Here, the whole jacket has a canvas base, which helps it retain the right fit for years and mold your body with wear. If you want a long-lasting suit, the entire canvas is the only way to go, and they are the most easy-wear type, but they are more expensive and less breathable in hot weather.
Half canvas is a way to make a suit on a budget, so you commonly see it among different types of wedding suits and many easy-wear blazers. Instead of being used through the jacket, the canvas is only present at the chest and lapel, being fused at the bottom. It's higher quality than a glued interlining but cheaper than full canvas. It's also more breathable so that it can be paired with hot-weather fabrics well.
We mention (a lot) that the fit of the shoulders of your suit is among the most important to the overall silhouette and one of the most challenging parts of a suit to "retrofit" or tailor. Suits should not pinch or restrict, and your arms must move freely and flow with the body. Did you know there are different styles of suit shoulders, though? Now you do!
Sloped shoulders are simple and unexciting but get the job done, rolling subtly down with the shape of the average body. It's a suit shoulder style found in America a lot.
This more angular style of shoulder is found in the UK a lot. It's usually padded to help maintain the more austere line, and there's a sharp "break," or fall-off, between shoulder and sleeve.
Here, we have France and Italy's shoulders of choice. This means it's also somewhat synonymous with high-end and couture suits. It's subtle but can have a big visual impact. The shoulder has a tiny "puff" of pleating where it meets the shoulder.
This is a more subtle difference in suit style. The vent is the tiny slit at the back of the jacket. It's there to make sure your rear end can move comfortably within the coat and to make sure you can sit without issues. While you wouldn't think that would need all that much styling, it's a tiny thing that can make a huge difference in how suits look.
As always, let's look at the most common type first. This vent goes straight up the "spine" of the jacket. It will pull apart and look a bit classy-yet-louche if you have your hands in your pockets, but it shouldn't regularly gape.
Side vents are explicitly designed to avoid that gaping issue, so you have two slits at the sides rather than one central one. It can also be used to create the illusion of a slimmer torso.
It's perfectly possible to create a jacket with no vent, and it gives a slimline look to men's fitted suits. It's a look that's very popular in Italy. However, style comes at a price. Putting your hands in your pockets or sitting will crease the jacket.
Unless you're on top of your fashion game, we bet the subtleties of this one have often passed you by. Yet there are, indeed, different types of suit pockets you can choose from.
Patch pockets are the most common type of pocket you will find. They're mounted from the outside of the jacket, so you can see the fabric "sit" on the jacket fabric. It has a nice blend of style and formality, meaning they work well with stylish blazers.
Here, the pocket is built into the inside of the lined jacket. It's accessed through a rectangular slit on the outside and can have flaps covering it. It's a very formal type of pocket, so you find it in evening wear and top-end office wear a lot. It's impossible to really go wrong with a welt pocket, but it can be a bit overdressy.
Jet pockets are a middle-formality choice and very common in office wear. Here, the pocket is almost all internal, sewn into the jacket's innards. This gives it a sleek and polished line that keeps the jacket looking smooth. So don't ruin it by sticking your wallet and keys in there!
Fundamentally, these are the same as flap pockets, but the tilted angle adds a racy look. They're also easier to access quickly. You see them a lot in men's sport coats.
You're more likely to find ticket pockets on vintage men's suits than on modern suits, but it's worth knowing about. We're used to seeing two pockets, one on either side. If there's more, especially right above the pocket for your hands, it's a ticket pocket. These were used for train and event tickets back in the day.
The build of your suit is likely to dictate the number of buttons that are used, but it's still worth giving them a little consideration. We spoke about how single-breasted suits have a line of buttons, where double-breasted suits have two lines and tuxedos typically only have one button. Nonintuitively, that single button is by far the most formal type and should never be undone unless sitting. Otherwise, bottom buttons typically aren't done up.
Sleeve buttons can have a few combinations, too, with the general rule of thumb being more buttons, more formality. Spaced buttons are informal and used a lot on coats and blazers. You probably never noticed, but here, the buttons have noticeable fabric between them. Kissing buttons don't, instead touching each other right at the edge. In the days when all suits were sewn by hand, this was a measure of a very, very good tailor, so it stayed as a mark of high-end suits. Stacked buttons overlap a little, like a deck of cards. It's not commonly seen and is something of a quirky way to add some personality.
You notice that a lot of these style features center on the jacket, and that makes sense. The jacket really is the dominant style feature in any type of suit. However, the style and cut of your pants most definitely matter too, especially when trying to find a flattering style that suits you. Let's take a look.
Flat-fronts are a flattering cut that looks slim and tight. Despite that, they can be slimming to wear because they don't have to sit right on your waist. They can either be slim or "parallel," which is a great way to minimize a heavy rear-end or lower half. When custom-made, flat-front pants can be a fantastic, versatile, and slimming choice.
Pleated pants have… well, pleats. At the side, below the hip area, you'll find either an inverted box pleat (where the "lips" join over the excess fabric) or knife pleats (where the material is tucked, as if over a knife). This means they're looser over the stomach, but surprisingly, this doesn't make them all that good at disguising a bit of bulge. They need to be worn higher on the hips or bulge at the thighs, and the extra fabric can emphasize the area rather than de-emphasize it. So it's not the best for disguising a beer bulge on an otherwise relatively slim physique. All the same, when well-styled, they can be a better choice overall for generally plus-sized men, but they are a bit old-fashioned now.
Hems aren't merely the way to prevent fabric fraying! Cuffed hems happen when there's a visible turn-up at the bottom of the pant leg. It's not often used with formal suits because it has a bouncy, informal vibe that doesn't match. However, the rule of thumb is that flat-front pants need straight hems, and pleated pants can take cuffs as they look more balanced. They can be an excellent way to get a "clean" leg line, as the little extra weight pulls the pant fabric smooth, creating the illusion of a slightly longer leg.
So, those are the key features of different types of suits for you to understand. Each choice comes together to create the overall look of the suit, but there's one "hidden" detail that will also have a tremendous impact on your suit and how you wear it – the fabric.
You can't use just anything to make a suit, although there are tons of fun and traditional fabrics you can dabble with. You need a woven fabric that's sturdy enough to hold up to the construction but light enough to be comfortable. You'll also find cold and hot weather fabric types among suiting fabrics. Summer fabrics, of course, are more lightweight and more breathable but often sacrifice some ability to stand up to wear and tear.
Fabric "weight" is typically seen in three divisions:
Lightweight (7–9 ounces/210–270 grams)
Midweight (9.5–12 ounces/285–390 grams)
Heavyweight (12–13 ounces/390–460 grams)
Typically, lightweight fabrics are for hot climate use, midweight designed for year-round comfort, and heavyweight best reserved for cold climates.
There's such a range of fabrics used in stylish suits for men that it would need to be a separate blog. However, it's worth knowing the basics. Good wool or wool blends are seen as the suiting benchmark. It's breathable, "wicks" (pulls sweat away from you), and is sturdy. Worsted, wollen, or tweed fabrics are all wool, but the fibers are spun differently. Worsted makes a longer "staple," or fiber, and is seen as the epitome of suit material. You'll see "Super X" used as a term in suiting a lot, where X is a number. This indicates how the worsted fiber was twisted, and the higher the number, the better. Super 100 to Super 130 is seen as a fantastic benchmark for most men's suits.
Of course, there's more than just wool. Standard lightweight suit fabrics include linen and mohair, while silk and cashmere blends are used for luxury and additional properties. Cotton is also found, and you'll discover avant-garde fabrics like velvet and satin around, too.
While wool is the traditional suiting choice, many modern suits look to mix two (or more) types of fabric. Why, though? It's done to try and balance the best characteristics of both material types. For example, a partial mohair blend can make a suit lighter and more breathable, where full mohair would be uncomfortable to wear. Some silk or cashmere can be added to the wool for comfort and breathability, as well as a beautiful luster, even though neither fabric would hold up at 100% in a suit. There are many reasons behind a blend – comfort, looks, breathability, elasticity, but it should never be to make a suit cheaper, only to make it more practical and comfortable.
If you're "in the know" in the suit world, the best suit fabrics come from Italy and the UK, with cooler materials coming from the UK, while Italy is best known for a wealth of easy-wear lighter fabrics.
Now that you know a lot more about what goes into styling a suit, you're much more empowered to find the right day-to-day look for your suit. However, as we mentioned, it's not always about personal style. Sometimes, you need to wear the best suit for the occasion, not necessarily how you feel about the look. While there's always a little room for experimentation, especially if you're very used to wearing and styling suits, let's look at some can't-miss "rules" for types of suits for special occasions every man should know.
Weddings are where many men first find an immovable, unmissable need to wear a suit, especially if you're in an open work field that doesn't need a daily suit. So many men find themselves adrift when trying to pick the right look, and it doesn't help that it's a very ambiguous category, too.
First up, it's not the office, so while you might be able to press a decent "general" formal suit into service if you have daily wear suits, it's not your only choice if you're more fashion-forward. Secondly, there's a lot of variety in what will be acceptable, and it mostly depends on the type of wedding itself and your specific role in it.
So, let's sketch some "big-picture" wedding suit rules. If it happens to be a black-tie wedding, you get off easy! You need a tuxedo or a tropical dinner jacket. The end. That's the rule!
Otherwise, the groom should be the most "dressy" person there, followed by the groomsmen and the anchor figures like the couple's fathers. Then there are the guests.
You should also match your suit to the formality of the event. Beach weddings don't need a full suit, but a nice, flattering blazer in light fabric is respectful. Outdoor is typically less formal than indoor, and afternoon is the least formal, with evening the most formal and morning in between.
Lastly, it's ok to pick for the weather. No one wants you looking scratchy in wool at the height of summer! Pick an occasion, venue, and time-appropriate colors, too, with paler for hotter, spring/summer, and outdoor events. Skip black unless you're the groom, and follow their color guides if the couple asks.
Are you still stuck? Most weddings will be well-served by an excellent, practical suit in navy or gray. Make it linen if it's summer or you live somewhere hot. So start there if you're stuck.
This is the other venue where most men will need a suit. Luckily, it's a lot easier and less ambiguous than with weddings. Most men need a single-breasted, comfortable, three-button suit for the office. You can use patterns but are typically subdued like pinstripe or chalk stripe. Traditional corporate colors are navy, darker gray/charcoal, "lifted" or patterned black if you can pull it off, and maybe brown. A good navy three-button suit, or a nice charcoal pinstripe, will fit in anywhere.
Job interviews should always err on the side of formality, and day-to-day wear should be chosen in line with your job's policy. We recommend looking at your peers for guidance, and always keep an eye on the C-suite and what they wear, too. While some top company figures "earn" the right to bend office rules a little, dressing in line with the executives rarely goes wrong.
It's OK to use a relaxed suit, or even a blazer and chinos if permissible, day-to-day in the office, but continually break out a proper three-button, single-breasted suit for meetings that are planned, especially if crucial figures will be there.
A suit is probably OTT for a first date unless you're going for formal, high-end, evening dining. Of course, you'd rather be too formal than look like a slob! However, most modern first dates would be best handled in bright pants and a blazer/sports coat. That's a look that will take you from a coffee shop to a relaxed dinner at most places.
Likewise, gents, don't let the standards slip just because you're married or have been dating for a while. Few female partners will head to date night in a holey tee, shorts, and flip flops, so do us a favor, and don't be that guy. Again, a sports coat and intelligent pants, or a quirky, fun suit that shows your personality (especially if you have an inner Gomez) is an excellent choice.
So, where do you start? As you get more confident, you'll branch out on your own and develop your style, but here's a quick guide to choosing a suit for most men:
First suit? Make it a navy, single-breasted, wool suit without too many quirks. This will take you almost anywhere, so it's a great starter piece. It might not always be the best possible match, but it will almost always be acceptable. Gray is an alternative, but navy is classic.
Building for the office? Add a charcoal suit next, then maybe some pinstripes. You can wear black, but it's not as practical as you think and will need a pattern to break it up. It has a funerary vibe; otherwise, that's hard to shift.
Want to feel like a real adult? Add at least one blazer to the mix so that you can dress up or down easily. Navy and gray are great, but other colors are good too. Skip white as it's associated with black tie. No man above his teens should be without at least one semi formal blazer/sportcoat to meet the needs of business casual and semi formal events in style. There's a middle ground between "t-shirt and jeans'' and "suit," and this is it.
Hot climate? You need one formal wool suit, but now you can add cooler, softer linen for comfort.
Black tie? A tuxedo or white dinner jacket and black pants (tropical dinner suit) is a wardrobe must.
Like suits? Now that you've uncovered the broader suit world, you can start building to please your heart. Play with color and fabric, experiment with styles. The world is your oyster! Checks, colors, bold prints. Whatever you can wear, go for it. Double-breasted suits are always fun as an eye-catching personal style.
Now that you know the details, let's look at some common questions about suits.
Trends come and go, so skip them unless you wear suits daily and consider yourself fashion-forward. Slim-fit suits are a trend right now, as are bold, mafioso-style patterns and vintage-inspired designs. If you like the look, use it, but rather dress for yourself than for trends. If your body type doesn't fluctuate much, you can keep a suit for decades.
Look at the shape of your body, as well as colors that compliment your coloration. Next, balance what you like look-wise with practicality in how/where you will wear your suit. We advise buying "middle-of-the-road" things, like modern-fit suits, single-breasted jackets, and notch lapels, until you get a better sense of what you like.
Black tie means you need a tuxedo. You can consider the "tropical dinner jacket" – a white dinner jacket with black pants.
You can wear slim fit at any size. However, what will be essential for a bigger guy is making sure it's well-tailored to your body. Don't drown yourself in the fabric; it will make you look larger. Instead, wear a well-fitted suit confidently. All that said, if you will feel uncomfortable in a slim fit, opt for a modern fit instead. Remember that how you wear your suit counts a lot, so you need to be confident!
We covered this in detail above, but modern is a slimmer (but not slim fit) and cleaner look than classic, which is roomier but a bit old fashioned.
This heavily depends on the venue, the couple's choices, your role in the wedding, the time of day, the season, and the event formality. When in doubt, a soft gray or navy single-breasted suit or a smart blazer with good pants is rarely wrong.
Worsted wool is a classic suit material. Linen or mohair is great for hotter climates.
Truthfully, it can be. Muscle fit is a fit that's even tighter than slim fit, and it's really a little too tight for true elegance on most people. Save it for your Vin Diesel-inspired tee shirts, and keep your suits slim or modern fit.
Black is surprisingly difficult to wear and has a funerary vibe unless it's in a tuxedo. It can be "heavy" and draining to look at when used to the extent of a full suit and runs the risk of overwhelming the man wearing it. While pop culture talks about the "little black dress" for women a lot, navy is a more flattering, more easily adaptable, and more appropriate color in almost all situations for men. It's easier to project confidence and wear the suit, rather than be worn by it, in color with more depth and vibrancy.
One high-end suit is more versatile and elegant than several cheaper ones. Make sure it's well-fitted to your body. Don't let your tie touch your waistband or your pants be baggy. Pick suspenders or a belt, not both. Match your shoes to your suit and your leather accessories to your shoes. Most importantly, have fun! A suit worn with confidence is some of the best "armor" a man can cultivate to face the world.
There you have it! In this ultimate guide to types of suits, we've covered everything you need to know to find the perfect suit type for your body and the occasion. Hopefully, you also feel more confident about fitting and choosing a suit too.

Remember that made-to-measure services like Oliver Wicks live and breathe suits, and we're here to help you feel amazing in your choice. We want customers who feel good and have confidence in the fit of their suit, wearing it with pride. So, if you're wondering how to measure for your suit, how it should fit, or anything else, don't hesitate to reach out today. We're always happy to help you find the perfect suit match.