Summer Wedding Suits That Will Make Everyone Proud
There's nothing quite as beautiful or romantic as a summer wedding – hot summer nights, romance in the air with the scent of flowers, and spring flowers over the wedding arch. There's just one problem. It's hot, and on a day where you're already a little stressed, the last thing you want is to feel bogged down by a heavy suit and drowning in your own sweat. Today, we picked the brains of the Oliver Wicks team about summer wedding suit ideas that will leave you feeling calm, cool, and confident despite the weather.
Men's wedding outfits have a jokey reputation for being uncomfortable, sweaty, and generally irritating to wear. This is mostly because few men wear a suit day to day, so both the weight and the enveloping styling can feel overbearing. Adding the summer sun to the mix can seem near intolerable. The good news is that most of these faults can be easily avoided by finding the right summer tuxedos to keep you cool and confident and making sure that they fit well. Not only will you feel more confident, but you'll also look fantastic and in charge all day long.
While color, cut, and material all matter in summer suits, good tailoring is actually the first and main way to stay cool and suave no matter the temperature. If you want to look great without sweating to death, there need to be a few adjustments. Wedding outfits for men typically use the same kind of structured builds used in a business suit. That's fine if you're getting hitched in a cool season but likely to be far too much for a summer wedding. That's why you will mostly want to use an unstructured suit to help you stay comfortable through the heat and humidity.
Unstructured suits fit looser against the body, allowing cooling airflow. Note that unstructured, however, doesn't mean baggy or informal. You want to look smart and put together, after all. This means that tailoring is going to be the essential hidden weapon in your arsenal. However, there's a few other key aspects to consider from the fabric used to the style you choose, so let's get stuck in.
After construction, the fabric you opt for in your summer wedding suit will be the most important part in determining if you will be comfortable or cooking. Traditionally, men's suits are made of wool.
Do you already feel a bit sweaty? Don't write wool off immediately. Different weights and blends can be used, so it is perfectly possible to use light wool and make a practical, cool suit, especially if you opt for partial lining or even unlined. Half-lined jackets skip the lining at the back of the suit jacket to allow better ventilation, while quarter-lined jackets only line the sleeves and shoulders for comfort. The lighter the wool and the less lining, the less hard-wearing the suit will be. Fresco wool has an open weave that's both cool and classy.
The thing about wool suits is that even when they're light and comfortable enough to be worn in summer, they don't always look it. This also depends heavily on the color and cut, but darker shades of wool can look far too formal for a beach wedding or daytime summer celebration, even if the suit itself is practical for the event. Luckily, there's a wealth of fabrics designed especially for hot weather suits.
Let's take polyester off the table immediately. Polyester suits are a no-no at any time. They look cheap and feel cheaper. In hot weather, they make you sweat and tend to smell. Leave this one well alone if you want to look good.
We've looked at linen wedding suits in great detail before, and if you're not sure which fabric to choose, this could be your best bet. It's light and breathable and also wicks moisture away. If you really don't mind the cost, silk or a silk blend is always a great hot weather option.
Cotton isn't as wicking, but there's a reason it's the quintessential summer fabric. It's light, airy, and feels cool as long as the weather isn't too humid. Even if you sweat (or spill), it dries quickly and is affordable and hard-wearing. This budget-friendliness makes it a good choice for a one-time groom's summer wedding suit or for the wedding party.
Lastly, seersucker is worth considering. There's a reason it came to be associated with Southern gents after all. It's incredibly cool, resists wrinkles, and washes easily, so again, it's a great choice for groom and groomsmen alike, as well as a summer wedding suit for a guest.
The type of suit you wear for a summer wedding will be heavily influenced not just by the weather but the dress code of the event, too. A black-tie summer evening wedding will be different from a daytime beach wedding with a quirky, casual vibe.
Most suits, as we imagine them, are what's known as single-breasted suits in the industry. These can be two-piece (as often seen in the boardroom) or three-piece (where there is a vest or waistcoat underneath). You might want to automatically rule out a three-piece suit in the heat, but it's an incredibly popular look for the wedding party, especially as you can stay formal at the reception even if you ditch your jacket as long as you use a lapel vest. It needn't necessarily be hotter than a two-piece if well made. A three-piece single-breasted suit also has an air of charm that's missing from a two-piece look, which unless carefully chosen can look too "business-y" for a beach wedding in the heat.
An interesting, if not entirely mainstream, alternative summer wedding suit style is a double-breasted look. This is a more "dressy" and interestingly different cut from the run-of-the-mill suit and could be a very nice way to stand out from the crowd on your wedding day as a groom. It can be equally as appropriate for a guest if you choose accessories and your overall look appropriately.
Of course, formal weddings are one of the few places where a tuxedo is commonly used. Tuxedos, sometimes affectionately called penguin suits because of their classic black and white colors, are incredibly formal, so they're not right for all weddings, especially summer weddings.
Yet, there's going to be few occasions more important than your own wedding, and this could be the time to invest in a statement piece. Modern tuxedos can also be constructed in a range of fabrics and colors to make them slightly less formal. It's an unusual summer wedding groom suit but can work, especially where the bride is also wearing a very fussy or formal gown.
In summer, we'd suggest veering away from a tuxedo look as a guest or for the groomsmen unless it's both an evening event and a white tie dress code. Otherwise, it runs the risk of looking far too formal for the setting.
Summer calls for lighter-colored formal wear. This might be slightly out of your comfort zone, especially if you have a paler skin complexion that's hard to match to pale colors. Summer weddings offer the perfect opportunity to play with color and print. The wedding party will likely be confined by the overall wedding theme and colors, but guests can explore any option that tickles their fancy unless you've been asked otherwise.
Blue is always a safe choice for men. Skip the navy for once, and go for bolder blues. Beach weddings, or weddings without a formal structure, are the perfect opportunity to try out a light green, purple, or even pink. Bold red or yellow can work in the evening but could be overwhelming during the day. If it's a traditional wedding, you may want to tone this toward burgundy. Red has been a verboten color for female guests for many years, and it's a restriction that's only just beginning to be broken (and not everyone agrees), so you might want to be a little cautious.
That's best if you have the budget to buy an unusual suit or will get rewear value out of a pale or bright suit later. If that's out of the budget, then opt for a fun splash of color in your accessories, and pick a pale neutral that will be easier to reuse. Soft grays and blues or a classic charcoal will fit almost any suit for a summer wedding and are practical to boot. Mid-tone browns, or pale tans, can work well, too.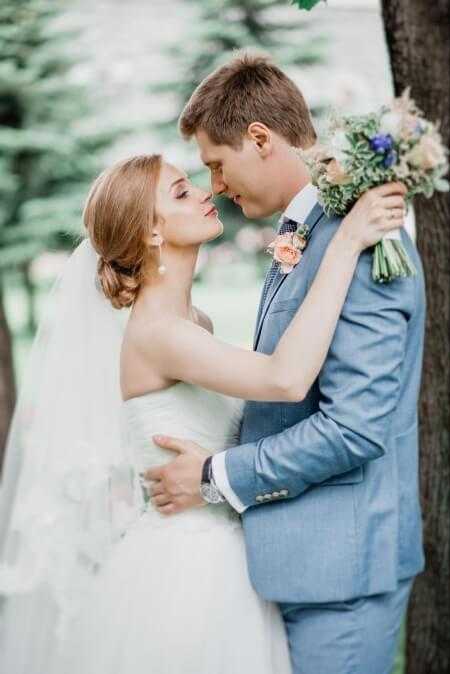 Unless the wedding is very formal, skip the black suits. Firstly, it's a common choice among the wedding party, especially for older men like the fathers of the couple. Secondly, it's a very difficult choice for a summer wedding and highly likely to look out of place unless you really have a good sense of style. Be bold and have some fun for once, and remember that if the couple asks for a color theme, please try to stick to it. It helps you get in the spirit, and it's good manners. If you can't afford to wholly create an outfit in the color, at least add notable accessories. Appropriate suit colors for a summer wedding are very flexible, so go ahead and enjoy.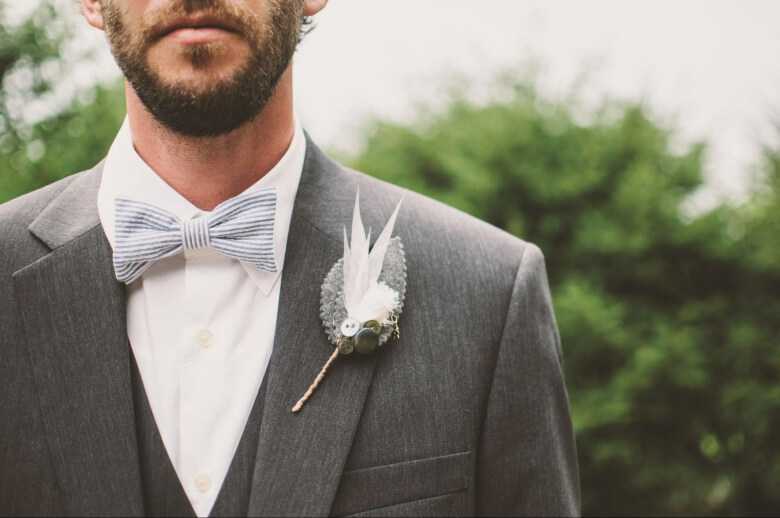 If you're something of a fashion novice and hoping a simple Google of "what color suit should I wear to a summer wedding" was going to give you an easy answer, we're sorry! When you're constructing an appropriate look for an event, there's a lot of factors to consider. However, they can seem a little overwhelming if you're more used to t-shirts and shorts. Hang in there, and keep reading. We promise it isn't as overwhelming as it may seem at first! Also remember that if you're attending with (or as) a plus one, you can always make sure your suit aligns with their outfit. In fact, we'd recommend this to ensure you look as good as a couple as you do on your own!
A key one of these is where the event will take place, as well as the time of day. This means that something that could be perfectly appropriate for a night wedding will be out of place at a different venue during the day. As a general rule of thumb:
The less formal the venue, the less formal your suit (and vice versa): The beach needs a lot less formality than a ballroom
Outdoors needs less formality than indoors: Many summer weddings head outdoors regardless of formality, and if the couple has a dress code like black tie or white tie, this could fall away. Again, a beach or garden wedding will likely need a more relaxed look than an indoor event
Daytime needs less formality than evening: Morning weddings can be slightly formal (think champagne breakfast), where afternoon weddings are typically the least formal, trending back to formality at night.
A summer wedding suit will be made or broken by how you accessorize it, especially if you're trying to keep the budget tight by using a suit that has rewear potential. Ties are typically a little too formal (and hot) for a daytime summer wedding, but this depends a little on the dress code, and that's mainly for guests. The wedding party, and the groom, will typically need a seasonal tie to finish the look, unless you're using braces, a cumberbund, or a lapel vest. Bow ties are always a cute alternative, especially for the wedding party. As a guest, if you're using a tie or bow tie, rose, mint, and other light summer colors are always fabulous.
A wedding is one of the few modern spaces where a hat on a man is still used. It's also a smart choice at a summer wedding to prevent heatstroke and sunburn from cramping your style – likewise on sunglasses. They're practical and may be essential at a beach wedding. However, they do create a standoffish vibe that's not always appropriate, so keep the lenses light and the frames more "charming" than "sporty." If in doubt, ask the couple in advance.
Socks probably weren't the first accessory you thought of for a summer wedding, but they will be one of the most important when you're ankle-deep in sweat! Summer weddings sometimes go with a no-sock vibe for fun and informality, but if you're not sure, get a cool moisture-wicking pair in a color that matches or is slightly darker than your pants. Trust me, it can't go wrong. If the couple is quirky, you know the vibe of the event well, and/or if it's informal, you can spice up a nondescript, "safe," and practical suit with some fun patterns or colors on your socks. Plus, it's easy to hide if you got the mood wrong!
Shoes should typically tone with your suit, but summer weddings offer you the chance to choose a nice contrasting neutral if you'd prefer. Match the overall formality of your outfit – so casual on the beach and formal in the ballroom. If you're in doubt, go more formal rather than less. It's far, far more preferable to wear a formal leather shoe, even if the mood is light, than get caught in sneakers at a black-tie event. A pro tip is to make sure your shoes are broken in and comfortable, especially as the groom or part of the wedding party, where you will be on your feet all day. Painful blisters are not something you want nagging on your wedding day!

By the way, silk is the ultimate summer fabric. In men's fashion, it's also something of a power fabric with a touch of an alpha-male statement to it. If you're looking to make an impression and stay cool without looking pretentious or out of place, silk works in almost every accessory – silk ties, silk shirts… you can even have silk-blend socks! The luster of silk is a standout from the crowd, but it's understated and classy. It's also hard to mess up unless you're very shy about attention. It transitions well from the beach to the most formal white-tie event, too. Just make sure you bring your relaxed-but-in-control vibe to the table with it, and never wear creased silk to a wedding, no matter how informal the venue. Silk blends can be a great way to get around creasing at the event. If you're the groom, you can even leverage it as a way to boost your own confidence.
We've rounded up some spectacular ideas below if you'd like some inspiration. However, if you're still feeling as lost as when you started the article, let's look at some easy, can't-go-wrong guidelines.
If you're the man of the hour, we hope our summer wedding suit for grooms guidelines have helped. Remember, you should always roughly match the vibes of your partner, so take some guidelines from the dress, too.
If you're in the wedding party, you'll probably get a lot of guidance from the couple. Stick to it as closely as possible. You should know if your friends are going for a formal event or a quirky gathering, but ask if you're not sure. Fathers of the couple can go for anything dignified and roughly matching the groomsmen, in a light, neutral, or comfortable color for summer. However, don't outshine the groom or even the best man. You're an important part of the event, but you're not the star, and it's not your day. Let the younger men shine.
Generally, the groom should be the most formal man there, followed by men in the wedding party (groomsmen, fathers of the couple, best man, and so on). If you're really stuck, look at their outfits, and tone it down a little. Most couples would far rather you asked them if an outfit worked than see you spend money on something horribly wrong. Unless it's full white-tie, steer away from a tux.
Choose formality and style based on the event and its venue: Is this a beach wedding, casual wedding, champagne morning breakfast, or an evening black-tie? Go paler and less formal the earlier in the day and the less formal the venue and darker and more formal toward evening and the more formal the venue. If you're comfortable with men's fashion, this is an outstanding chance to wear a bold color, but that's not for the shy or unconfident, so don't wear a suit that will end up wearing you. Go bold if you dare.
Remember the season, choose a light and breathable suit you can wear in the weather, and keep a summery feel to the colors and accessories you choose. As a guest, you walk a fine line. You want to look good and match the importance of the event as respect for the couple. However, don't want to upstage them as the day isn't about you – it's about them.
Now that you know a lot more about summer wedding outfits for men, let's look at some fun, yet suitable, ways to explore your own style while still looking great, whether you're the groom or the guest.
Light gray is one of the most versatile summer suit colors around. It even looks cool, and because it's lighter than a traditional gray or charcoal, it reflects more light and keeps you cooler. Linen dyed gray looks spectacular but so does light gray wool, and it's not much warmer.
This means that it's a great choice for the groom, groomsmen, and guests alike. For grooms or the bridal party, gray looks relaxed and playful without straying too far from formal. It also looks fantastic against a white or ivory bridal gown.
Obviously, if you're a guest and you know the bridal party is using this color, you should look elsewhere, but if not, go ahead and enjoy. Perhaps one of the best parts of this look is that it's entirely reusable down the line, meaning you can really invest in a statement suit.
We often mention navy as a great go-to color for men who want to look appropriate almost anywhere. This is also one of those rare occasions where it is a bit of a heavy vibe to bring to the ceremony (unless it's an evening wedding, where you might get away with it with the right accessories).
Luckily for you, strong, saturated blues have much of the same elegance and style as navy but are a better choice of summer wedding suit colors. If you happen to be graying, blue can be an especially vibrant choice for you and can make you look like the resident silver fox. They also happen to be trendy at the moment, but trends change over time. Rest assured, this choice will be timeless for a summer wedding. Lean a little lighter if it's a daytime wedding and a little darker for the evening.
With an atmosphere evocative of the summer sky, it's hard to go wrong with blue on a guest or groomsman. It could be a trickier choice for grooms, simply because it can be highly dependent on what your partner and their bridal party are wearing as to whether you tone in well. As it's a popular general summer wedding color for men, a groom should probably look elsewhere for something that stands out.
We've got an interesting and fashion-forward choice for you here. Antique white linen can be an exceptional choice for a summer suit beach wedding if used right. It does have some potential to go wrong though, so if you're on the fence or unused to wearing suits, handle it with care.
As a guest, you're near guaranteed to look fantastic. This goes double if you have dark, olive, or tan skin. Do be aware, however, that white and near-white colors are a very big faux pas for female guests at a wedding. While no one is going to confuse you with the bride, you might want to run your choice past her to make sure it's not going to cause any friction. Just because you will look amazing doesn't mean it's always a good idea!
It can also be an amazing choice for the groomsmen if you add a pop of color in the right place. Try a bold lavender shirt or colorful cummerbund to make it exceptional, and let the groom create contrast with his suit. At a wedding with two grooms, it can make a playful way to twist the traditional wedding look and looks gorgeous paired with the blue we mentioned above.
For a traditional couple, however, it might not be the right choice, purely depending on the color and cut of the bride's dress. If she's skipping white, using an ombre dip, and/or the dress is informal, it's a great choice for the groom. With bold color contrasts through the rest of the outfit, you can look fabulous together. With more subtle colors or a more structured or traditional white dress, you might look too same-y and washed out as a couple, and no one wants that.
There's absolutely no way to go wrong with a classic tux at a wedding as the groom, so this one had to make the list. Using the traditional black might be a little heavy for a beach daytime wedding but will look romantic and dramatic at a summer evening wedding. A groom that's on the fence can't go wrong with this, and it also has a lot of rewear value. Unless it's a very formal evening event, a tux might be too much for a guest.
Seersucker used to be a crinkly mess, but modern versions cut out a lot of the hassle. You'll notice a subtle stripe on this summer suit with a twist, and that brings a cheery atmosphere that fits the summer mood. It's a nice way to get a pale color on the groom without washing out the couple with too much white, and it has a distinct Southern charm that simply can't go wrong. Plus, it can easily be reused throughout your summer wardrobe after the big day.
Like our antique white linen option, this is a handle-with-care choice, but done right, it's a guaranteed hit. With self-faced lapels and mother-of-pearl buttons, paired with crisp black tuxedo pants, this is a fantastic way to dress up a summer evening look, especially for a groom who wants to stand out without upstaging his bride.
It brings all the formality of a full tuxedo to the table but with a more relaxed vibe. As with the linen choice, you might want to consider the bride's dress before picking this one. A very informal dress will look mismatched, and there might be too much white if she's wearing a puffy princess gown. If the bride has opted for a sleek modern gown, this combination could be perfection on a groom for an evening summer wedding.
A bold guest, especially a guest of honor or best man, might be able to make this work, especially if the groom has opted for a tux. However, it's probably best left for the wedding party. Do note that this is considered a top-end alternative for black-tie events taking place on or near the water for anyone-guest or groom.
There you have it! Whether you're in the wedding party, going as a guest, or the man of the hour himself, we've explored everything you need to know about a summer suit for a wedding. From choosing the right fabric and cut to stay cool to making sure you have the best colors to look great on the day, we've covered all the bases for you. Now, all you need to do is get you and your groomsmen their wedding suits ordered and let the magical hands at Oliver Wicks do the rest for you.

Even if you're not one of the wedding parties, it's imperative you dress well to honor the happy couple. We hope we've set you on the right road to the perfect men's summer wedding guest attire. If you want to expand your custom suit collection in honor of the special day, feel free to get in touch today!