Choosing the Right Lining for Your Next Suit
Spoiler Alert – The lining of a suit mostly comes down to personal preference – It's difficult to go wrong! Having said that, we'll discuss a few points that should help you make an informed decision.
A suit from fabric alone would be limp and thin – Lining adds weight and structure! This leads to a better shape on the body by reducing fabric bunching and forming a support skeleton. It also adds warmth to the jacket and creates a clean look by hiding the internal construction. Lastly, a lining makes the jacket more comfortable by creating less friction, allowing the jacket to glide over your shirt.
You're surprisingly unrestricted when it comes to lining options. First let's talk about color.
In a nutshell, match the colour of your lining to the jacket fabric for a conservative, elegant and formal option. For dark suits, you can match directly, or choose a lighter shade for an added touch of style. For light suits, match directly again, or compliment with a darker tone.
Subtlety isn't for everyone; some people want their outfit to scream from the rooftops. If this is you, opt for a strikingly bold colour such as a deep red, copper, or bronze. If you're choosing a patterned suit, a classy touch can be to pick out a similar lining colour to what is present in the suit fabric.
As you've probably guessed, plain linings are always going to offer the most versatility and are arguably the most formal approach. An outfit is a grouping of individual garments, and a plain lining is one less thing to worry about when it comes to pairing.
It may seem that we paint patterns in a bad light, but that's actually not true. Within our lining options you'll see a carefully thought-out selection of patterned designs that are considered classic menswear styling and are definitely worthy of consideration for your professional wear.
You won't find neon pink flamingos or island-theme palm tree linings at Oliver Wicks – We love them! But it just doesn't fit our formal sartorial styling!
This may come as a surprise – Not silk!
While silk is awesome, we don't use it in our linings for a few reasons – It would increase the price of the suits disproportionately, it's vulnerable to yellow staining from moisture and perspiration (not what you want in a material that will be hugging your armpits all day!), it wrinkles fairly easily, and it's simply not that durable! Instead, we use a special type of Rayon: Bemberg!
This is produced by some of the best Italian mills - Brunello, Scopel, and Mauri. Bemberg is known for being slightly softer and more breathable than other rayons.
The confusion! Bemberg is also a brand name, belonging to a Japanese corporation. All of our linings are technically from the same material (yep, bemberg!), but those with the additional cost are from the brand Bemberg (it's simply a slight markup from branding!). If the truth be told, we don't think there's much difference in it, and we think you'll be greatly satisfied with any lining from our lineup!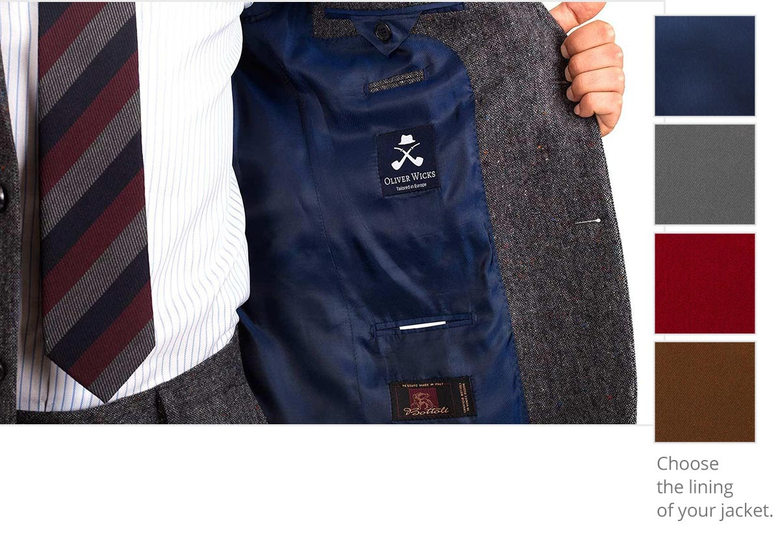 Picking out a suit, shirt, and tie combination can require a lot of thought to ensure that you fit in with your office's standards. Choosing a lining on the other hand is your chance to get loose and be as conservative or as bold as your heart desires – Have fun with it!