What Are The Best Suit Brands For Men? Does It Matter?
If you've been following Oliver Wicks for a while, you know that made-to-measure suits for men will always be a better buy than off-the-rack. However, while you always want spectacular looks and high quality, you can't always wait for a custom-made suit. That's why we've rounded up the best bespoke, made-to-measure, and off-the-rack suit brands that you can trust, as well as answered some questions you may have to ensure you get the best possible experience from your suit-buying experience.
Remember, no matter how good the men's suit brand, an off-the-rack suit won't fit you quite like a made-to-measure suit, so don't be afraid to take it to a tailor after you find the right one. You can also take a look at our advice on measuring for a suit, as well as different suit styles, to help you better understand how suits fit and where the fit matters most.
Looking to buy a new suit but not sure which brands make the best suits? To help you out, we've picked out 30 of our favorites. Read on to find out why we think these are your best options for quality bespoke, made-to-measure and off-the-rack suits.
For decades seen as one of the best men's suit brands, Giorgio Armani has built its reputation on impeccable tailoring. The brand is perhaps best known for its trademark fluid drape and soft shoulder and the reinvention of the suit with a cropped jacket and tailored pants, balancing the male frame and giving an elegant silhouette that's unmissable and contemporary. Armani is also widely regarded as one of the best suit-makers on the market for athletic builds.
Brioni is another Italian menswear brand that's beloved among those looking for true luxury. The brand is fashionable, while also known for a timeless elegance that's hard to beat. Most recently, their work has taken center stage in the modern James Bond films, with both Pierce Brosnan and Daniel Craig's versions of Bond being spotted wearing a Brioni suit.
For luxury ready-to-wear suit options, Brooks Brothers has a reputation as producing some of the best men's suits in the world, a reputation the brand has built over centuries. Founded in the 17th century, Brooks Brothers has dressed 40 American presidents and been the go-to brand for the cast of Mad Men. In fact, Brooks Brothers was the brand that first brought ready-to-wear suits to the United States.
Burberry made its name on outerwear, being especially famous for its trench coat, as well as a signature plaid pattern. Today, however, Burberry is known as one of Britain's signature luxury fashion houses. A lot of Burberry's work is heavily influenced by the classics, with some touches to keep the aesthetic modern and fresh.
Canali is one of the best-known luxury brands that focuses on menswear, from suits to accessories such as bow ties. They are a major player on the men's fashion scene today, and George Clooney has become something of an unofficial face for the brand. The suits are meticulously made, with attention to every detail, and well worth the money if you're beginning to build a high-end suit collection.
Another top-end Italian suit maker, Corneliani was established in the 30s. This is a brand for those who enjoy flashy custom details and effortless-to-wear suits that scream jetsetter. It's a full made-to-measure experience, so be ready to join the C generation.
Drake's aesthetic is one of relaxed elegance that is combined with great quality and craftsmanship. If you're looking for something a little different, a suit ready for you to slip on a suave grenadine tie and go, this might be the best suit brand for you. Drake's also offers a linen-blend range and linen suit options for hot weather wear.
A Belgian fashion house, Dries van Noten is known for luxury fabrics and elegance with avant-garde touches, and their suits are one-of-a-kind. If you have a love of patterns and tweeds, this is a must-have statement piece fit for a king.
Fondly known as D&G, Dolce & Gabbana has become one of the most recognizable men's suit brands in the world. You'll find a little of everything in their collection, from bold jacquard to embroidered silk, and the high standards of tailoring draw people back to them over and over.
One of the highest quality Italian luxury brands, Ermenegildo Zegna prides itself on expert craftsmanship. It's a brand with an emphasis on sophistication and classic colors, intended to showcase their use of the finest fabrics. Headquartered in Milan, this contemporary and fashion-forward luxury brand is well worth the price tag.
Everlane isn't exactly in the same class as some of the other brands on our list, with a single Italian-style wool suit on offer for $300. But for that cash, the suit is an immensely great value. Plus, Everlane offers the suit in several colors and works only with ethical factories and high-quality fabrics. For a great entry-level suit brand, Everlane could be exactly what you need.
Once the domain of British explorers and adventure-wear, today Gieves & Hawkes is a well-loved icon of British men's fashion. They first made their name making military uniforms, including for the Royal House itself. If you've ever wanted to wear a suit that shares provenance with the Prince of Wales' wardrobe, look no further!
Givenchy suits are statement suits. The brand is known less for comfortable business-casual practicality and more for avant-garde maximalism. Givenchy tuxedos are also very well thought of. Their suits are chic, structured, and carry an aura of sophistication, and they always make a statement.
Gucci has always brought something a little different to the table—think jacquard prints and bold colors, bright piping, and unique details. Despite its reputation for eclectic extravaganza, Gucci offers sleek traditional designs as well. Gucci is also well known for adding unique stylistic details to its suits, and has been a celebrity go-to for a while.
Hermès is iconic for simplicity and modern lines, and has been producing only the best-styled suits since its founding in 1837. Known for tailored waists and clean hips (great if you don't like to wear a belt) the brand's worsted yarn also has a reputation for being crease-resistant. If you need a formal business wardrobe that's suitable for travel, this could be the right choice for you.
With a solid range of luxury men's suits in all styles, Hugo Boss has made a name for itself with its double-breasted suits and a signature navy pinstripe double-breasted suit that's hard to beat. Known as one of the best suit brands in the world, you can't go wrong with a Hugo Boss suit.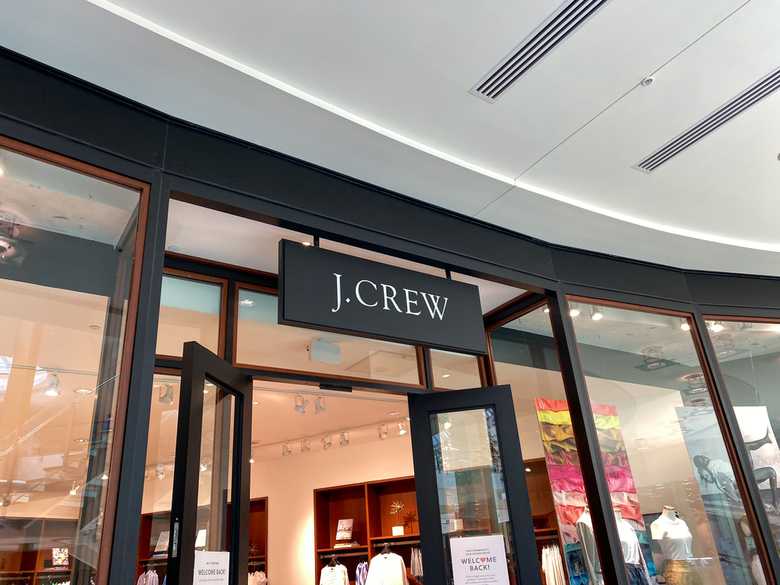 With the motto "looking a million bucks, not spending it", J.Crew might be one of the best budget suit brands for someone trying to start a working wardrobe. J.Crew has accessible pieces, but also boasts high-quality fabrics and classic yet modern-leaning designs. It's a preppy outfitter that has limited styles, but the styles are well-made and updated frequently. Learn a few different tie-knots to spice up your look, and get to work.
"The Fit That Suits You" – Oliver Wicks is a highly-rated online made-to-measure suit brand that specialize in tailoring perfect fitting, yet affordable suits from premium Italian and British fabrics, predominantly for a US audience . They're known for their attentive, European customer service, as well as one of the best satisfaction guarantee policies in the suiting world. Once you own your first custom-made Oliver Wicks suit, they'll save your measurements and you're free to build your suit collection with the same great fit every time.
Oxxford is one of the best suit brands for sports coats as well as full suits. Based in Chicago, they're known for their distinctive suit construction, light horsehair canvas linings, and characteristic sleeve stitching. The construction makes Oxxford suits easy to move in and comfortable to wear. Don't let the coy spelling fool you, this is a brand for politicians, executives, and celebrities alike.
Renowned as one of the best modern suit brands around, Paul Smith has an overall creative aesthetic that's earned them a spot as one of Britain's leading designers. If you want something with just a little whimsy, without frivolity or silliness, then this might be the brand for you. Pleated slacks and cropped legs? Right here. But it stays chic and sleek all the same. You wouldn't wear Paul Smith to a funeral, but if you want to create a truly personal style, it could be a go-to.
The beauty of Ralph Lauren suits is the ability to mix and match pieces easily within their collections, meaning you can build out multiple looks from just a few classic pieces. This makes them one of the best brands for top-end suits that combine ease and comfort with classic elegance. The Ralph Lauren Purple Label collection is the brand's high-end collection, but they do have others available.
Reiss is a newer suit brand, dating from the 70s, but they've quickly become known as a leading figure innovating men's suiting. Aiming always for functional design alongside quality and great value, Reiss uses traditional techniques but still allows trend-driven style. With a Reiss suit, you'll find premium fabrics and smart design alongside great construction.
When it comes to menswear, Saint Laurent is best-known for slim-fit suits with tight waists and thin lapels. It's an iconic French brand that's continued to stay up-to-date and current no matter what. The tailoring is expert and the suits are sleek, but you'll also find bold prints and innovative fabrics if you're feeling a bit more daring.
Savile Row Tailors were once renowned as the very best in London, and the Savile Row Company carries this quality forward. We'd call it one of the best affordable suit brands around. Savile Row's emphasis is on timeless, classic styles in sophisticated colors, rather than top-end fashion, but the looks are elegant and perfect for the boardroom—who knows, you may even be bold enough to try out a vest or double-breasted suit!
Based in Florence, Stefano Ricci brings playful Italian style to the table. If you're the type of man who likes brown shoes with his blue suit, this might be the brand for you. Bringing Italian elegance, Stefano Ricci still meets the high-fashion benchmark. Hand-cut and seam-matched, it's a brand of laid-back luxury that's hard to miss.
One of the best brands for men's suits under $1000, SuitSupply is also a newcomer on the scene. They're a vertically-integrated retailer, bringing high-quality Italian fabrics directly to their factories and then to stores, allowing them to skip the middleman and offer a low starting price point. They also offer many customizations for those wanting to take advantage of the low starting cost to personalize their look.
Colorful yet classic is the typical way Ted Baker suits are described, and it's a great suit brand for men who want something a little different while maintaining high standards for quality. While it's not a dedicated menswear brand—Kate Middleton is one of their best-known customers—Ted Baker has become synonymous with British style.
While many know Tom Ford best for its fragrance lines, it's also one of the best luxury suit brands currently on the market. Needless to say, this is a brand with a lot of emphasis on fashion and trend (no pleated pants here), but every suit will be a work of art. If you're craving high-end, fashion-forward designs that are slick and impeccably tailored, this could be the right brand match for you.
Versace has been an exclusive men's suit brand since its founding in the 1970s, and is seen as one of the original 'luxury' labels. Known for extravagant designs and top-end fabrics, Versace aims to add something new and different to every line. Yet Versace suits are always underpinned by high-end craftsmanship, quality, and exquisite attention to detail.
Now that you've got a better idea of the available options, you may still have a few questions. We'll try to answer them below.
You may wonder why we have 30 bests on our list. The fashion world is vast, and what's perfect for one person won't be for another. Whether you make your choice by price point, style, cut, or purpose, there are plenty of high-quality brands for you to enjoy no matter what your tastes, so don't be afraid to try them out.
Remember, style is about you, not just a cut. While current trends favor a closer fit, non-cuffed, non-pleated, tapered suits with a low rise at the waist, many quality brands carry everything from traditional to avant-garde suit options, because every man is different. Cultivate your own style and you'll create an aesthetic that looks great and feels right for you too.
Just keep in mind that a modern, tailored fit is usually your best option for professional and/or formal wear - Getting trendy can certainly be cool at the weekends, but you do risk venturing into a more casual vibe, which your employer may not be thrilled by in the 9 'til 5.
You certainly can! Many of these top suit brands have online services for made-to-measure, and off-the-rack suiting. Only entirely customized bespoke pieces will always require an in-person appointment. With the fast pace of 21st Century lifestyles, online made-to-measure is becoming increasingly popular for people of all ages and suiting preferences.
Fit - It's all about a great fit! Some of the luxury fashion houses on our list may look intimidating. How do you buy a budget-friendly suit, and still carry that allure and power? Above all, buy quality fabrics. We would suggest leaning towards a modern, tailored fit, rather than trendy, go for natural fibers like wool, and stick with 'neutrals' (a navy suit counts as a neutral). A well-fitting $749 suit is always going to look a thousand times better than a poorly fitting $5000 suit, regardless of the brand label.
Please don't worry—no matter their body type, every man can find a comfortable, chic, and elegant suit that's perfect for them. If you do have body discrepancies, a great tailor will create a sleek overall look that draws attention away from areas you're self-conscious about, and a well-cut suit makes everyone look-—and feel—like an Adonis. Your suit will work for you if you invest in quality, and you don't have to be perfect to wear it well.
It is a cruel fact of life that some men just cannot seem to win with off-the-rack suits, but maybe they can't afford to go bespoke either. You needn't suffer a life of compromise, as this is where made-to-measure really comes into a league of its own - You get the dapper fabric, the customization options, the awesome fit, minus the hefty price tag.
It's worth investing in your suit. Suits can last for decades if well-chosen, and a great suit makes every man look and feel fantastic. However, you don't need to use your kids' college funds on a single suit. Spend as much as you can comfortably, and learn what quality looks like so you can spend it well. Shopping by price tag—high or low—is unwise, so shop by quality and cut and stay within your budget.

Having said that, it would be a bit of a cop out not to provide some sort of figure, so here goes! We'd be cautious of anything under $500 for a 2-piece, but you can certainly buy quality and have change from $1000.
This depends on you. Are you building an office wardrobe? Do you wear suits only on special occasions, or do you live in them? The more you wear suits, the more suits you will need, and if you work and play in them you may even find yourself changing suits within the span of a single day. Ideally, you want at least one business-appropriate suit, a business-casual outfit or blazer, a dressy suit or tuxedo for high-end events, and something you can wear in hot weather. Tuxedos are best kept black, and suits in navy and charcoal are great core colors to begin building your collection. But have some fun and buy a suit you love for its own sake, too.
When building a collection from scratch, we suggest aiming for a plain Navy, Charcoal, and Gray as your first three suits. With this wardrobe foundation, you're covered for most occasions and you can then venture down your own path of personal style.
There you have it! You now know some of the best suit brands in the world, and a little more about how to look like a million bucks no matter your budget. Remember, it's about quality, cut, and style, not just the price you pay, but getting the fit right trumps everything. You can look great in a suit without having to opt for the most expensive suit brands.
At Oliver Wicks, we're proud to offer gorgeous, European suits at a range of price points, so why not hop over to our website and find the perfect suit for you today, from the comfort of your sofa?