When a suit is Actually a tuxedo: The difference explained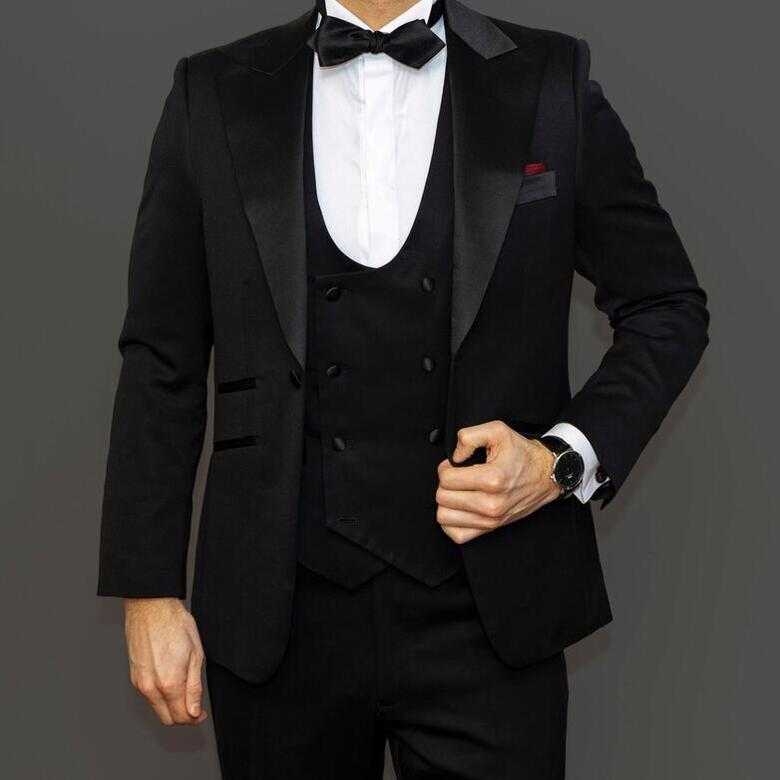 What is the difference between a suit and a tux? This will likely be the first thing you ask when you get an invitation to a fancy outing. The second you may wonder is, "What on earth does that dress code mean?" Once the tuxedo and suit terms are thrown your way, it may be challenging to decide what you should wear when and which piece is appropriate for the occasion, especially if this is not part of your daily wardrobe decisions.
So we rounded up the Oliver Wicks team again and asked them to explain it in detail. What really is the difference between a tuxedo and a suit? Can you wear a tuxedo to a wedding? What is the appropriate fashion choice for prom, a suit or a tuxedo? We've got the answers, so keep reading!
The easy yet difficult to decipher answer... A tuxedo is a suit, but not all suits are tuxedos. That's probably not enough info to make a good pick, though. So let's dive into the details.
During historic times tuxedos were scandalous and new-fangled party wear for the rich. Griswold Lorillard and some friends wore a suit without tails to a fancy party in Tuxedo Park. This made high society clutch its pearls, Griswold and co were tossed out, the news loved the scandal, and a party suit scandal was born.
Tuxedos have a specific look. Typically shawl lapels, in satin material, matching shiny satin trim on the pants, and satin buttons are the immediate stand-outs. It's these satin accents that lend a party vibe to the ensemble. They're worn with white dress shirts and a bow tie in either black or white. You can let your personality shine through a little, with cufflinks and maybe a cumberbund/waistcoat or pocket square as accessories.
While some style differences exist, think of a tux as a high society formal event uniform, not a chance to be fashion-forward and uniquely dressed or added pieces for your personality to shine through. They're not suitable for business and not appropriate for a personal look unless avant-garde is your thing.
So, what truly is the difference between suit and tux? The word 'suit' covers men's formal two- and three-piece wear, so there are many types of suits. For example, 'Smart casual' and 'business casual.' This look is sharp but not very formal. Usually, it's paired with chinos or slacks and a blazer- a stand-alone men's jacket that's a bit of a looser cut than a suit jacket.
This look is perfect for a coffee date or day-to-day dress but a little too casual for the boardroom or more formal events.
There are instances where a suit may be too casual and not appropriate for specific events, and this will be where you opt for a tux! But how do a suit and a tux truly differ?
Lapels: Notch lapels on suits are a simple design. Tuxedos use shawl lapels- a smoother, sweeping label. Even if you've opted for a different style, it will be in an accent fabric on a tux and not a suit.
Buttons: Suits use various buttons, from contrasting metal or horn to self-covered. Tuxedos use the accent fabric only, usually shiny.
Pants: Suit pants match the suit jacket and are plain. Tuxedo pants have a stripe of accent fabric, often in the same color but with contrasting fabric.
Shirt: To be strictly proper, tuxedos only use a white bib dress tuxedo shirt with a wing collar. However, a white fold-down collar without a bib might work in modern settings. Under a suit? Depending on the event, you can embrace a wide range of colors and tuxedo shirt styles. You can personalize it to your taste.
Tie: You wear bow ties with a tuxedo. Typically black, possibly white. Neckties are for suits and offer huge versatility in style and look. Sometimes, bow ties and suit combinations look unique if you want to stand out at certain events.
Shoes: Classic tuxedo shoes styling demands shiny patent leather dress. Velvet loafers could pass too. Stick to black unless this is a very modern type of black-tie event. Under a suit? We recommend dark leather loafers or dress shoes for almost anything, but you can do what you want as long as it is appropriate to the event- as a fashion look, even clean, high-end sneakers can work, though don't take them to the boardroom!
A tuxedo is typically a pricier purchase than a suit, and you might get less wear out of it though, of course, that won't be the case if you attend many black-tie events. In addition, they offer a lot less flexibility in their look and where you can wear them! When you need a tuxedo, nothing else will do, and a suit won't be a substitute. However, if there isn't a particular event you need a tuxedo for, suits can be cheaper for daily living, and they're certainly a lot more versatile.
Build up your suit wardrobe first if you're starting your suit journey. Then, add a tux down the line as you need it.
This is a fun question! Three-piece are suits made of a suit jacket, pants, and a matching vest (waistcoat). They have become something of a fashion statement, rather like double-breasted suits, and can be amazingly fun to wear. So if you're looking for a personal style, consider the three-piece as it lends dignity and gravitas to your look. It's great for older gents looking to up their fashion game, too. Just make sure you fit them properly, so you don't look gauche. Your tuxedo shirts can make all the difference to your overall outfit.
They can look 'old-fashioned' in modern boardrooms where relaxed suits are the new norm- but again, if you're already in a corner office, it's an excellent way to give yourself personality at work. Any event dress code where a suit is good, a three-piece can go, and it's a perfect way to bridge the gap underneath a black tie for added formality. However, if you prefer the look of two-piece suits, don't sweat them. A three-piece does not stand in for a tuxedo.
Hmm… this is a slightly contradicting question! Both of these items, you see, are part of a pair. Neither is ever worn by itself. So the answer to your question may well be neither unless you're wearing the whole kit.
But what is the difference between the two? Pants are pants. Not so much. Take a good look at a pair of tuxedo pants. They're fancier than suit pants and always have a stripe or trim, usually in a shiny fabric, down the outside of the pants. Suit pants tend to be a little humdrum and plain, with most of the focus on the jacket (and vest, if a three-piece). This is the key difference between them.
Revisiting what we mentioned earlier, one of the worst fashion faux pas you will ever make as a man is wearing either without the accompanying suit or tuxedo.
So, as you can see, suits will take men almost anywhere- just not to a black-tie event. While you may look a little too formal for some activities, you certainly won't look out of place, and you can wear a suit happily as a day-to-day look with little worries. It's the tuxedo that has a specific time and place. That's very high-end partying, specifically black tie dress codes and above. Anywhere else, skip it. As tuxedo shirts are much too formal looking.
Honestly, there's a time and place for both tuxedos and suits, so it's not a question of either being 'better' than the other. Instead, the question is which is appropriate for what you're doing. So here's a look at some everyday situations and which is the best choice for them.
We know we've got into a lot of similar-sounding menswear today. Bear with us! This question is a non-starter. You now know what a tuxedo is. A dinner suit or suit shirts should not be confused with a dinner jacket ( another name for a stand-alone blazer). A dinner suit refers to either a tuxedo (though it's not the correct wording) or a particular look, also called the tropical dinner suit.
This is an ivory dinner jacket with fancy black dinner pants and a bow tie, and it's the only other black-tie alternative to a tuxedo for men. So, basically a different type of tuxedo. You can't wear it to the office. But, you can wear it to most black tie events, although there's some question of whether it's appropriate for everyone! Suit shirts can also make all the difference when you are deciding what to wear where.
On that note, which is best for a groom? Frankly, it's up to you! If you're going for a full black-tie wedding, wear the tux or the dinner suit. It's in the dress code you're setting. If you're on a beach somewhere, maybe go for neither- a casual blazer should be enough. Anywhere else, a suit is great.
If you're not the groom? Follow the dress code. Tuxedo only for black bow tie. You can do either, but make it a relaxed and fun tux for a formal wedding. Any dress code less formal than that, stick to a suit. When you reach 'smart casual' and 'anything goes,' move to a nice pair of pants and a blazer rather than a suit.
Black suits have a funerary vibe. Suppose it is for a funeral, definitely the black suit every time. Tuxedos are 'party wear,' not 'Formal wear.' Nothing is less appropriate for a funeral, life reading, memorial party, or other somber occasions.
If it's not a sad event, however, then you're asking the wrong question. Instead, wear a tuxedo to appropriate fun events. Skip the black suit for the boardroom or occasions where tuxedos aren't appropriate. Look for a dashing navy or striking charcoal instead. You'll thank us!
So for sophisticated formal occasions such as weddings or prom, you might like to look at a tuxedo, although it does depend on the dress code that's set. For parties, the same goes- tuxedo at black-tie or higher, maybe a more fashion-styled and less formal one at a true formal dress code event, but anything from a cocktail dress code down is better off with a suit.
For business, stick to a suit, or move to pants and a blazer for business casual. In your personal life, smart casual can be covered with nice pants and a blazer, and anything more formal than that with a suit.
If you're fashion-forward or trying to smarten up your daily look, you can either lean into fun, different suits as a personal style or evolve the blazer-and-pant combo to perfection. After that, it's up to you! While we've reached a kind of anything-goes point in fashion, a tuxedo as the daily style will be a more eccentric touch, so we will stay away unless you don't mind the attention.
And there you have it! So now you know the difference between a dinner jacket vs. a tuxedo jacket vs. a suit jacket and when to wear each best. So now it's time to find the perfect matches for your wardrobe!