Wedding Suits and Tuxedo Styles Every Groom Should Consider
Wedding bells are ringing, and it's time you did something about your suit! Pop culture may tell us a wedding day is all about the bride, but let's be honest – this is the start of a beautiful partnership, and you want it to feel like it.
Not only that, but your partner-to-be doesn't want to be the only person doing all the work – we assure you! So, grooms-to-be, it's time to get honest about styling your side of the wedding party. Not only do you get to look super-smart and forward-thinking to your partner, but you get to style yourself and your boys your way and look fabulous too! There's no way you can lose, so let's get to it.
You would imagine that grabbing a suit would be a lot easier than finding the bridesmaid dresses and wedding gowns, but one or two Google searches will probably knock that idea right out of your head. Do you need a linen suit? Double-breasted or single-breasted? Is a tuxedo better? Would you use a low-stance vest and a boutonniere? What even is a low-stance vest and a boutonniere, for that matter! It's tricky enough if you're already fashion-forward and love your suits. If you've been living in your ripped jeans and band t-shirts to date, you probably feel lost indeed.
Saying "I do" to the person you love most in the world is easy, but creating the wedding of both of your dreams isn't always. We, as wedding experts on the Oliver Wicks' team, broke down the world of wedding suits to help you put together a roadmap to success. We'll walk you through what suits match what weather; how to style them for a suave, modern look; and how to choose from the many options you face.

Remember that anything specifically made for you and your groomsmen will take time to create. If you want a custom wedding suit, make sure you order early enough that there's plenty of time to perfect the fit, and make sure everything is just as you want it.
We know that by the point you're looking up wedding suits on the Internet, you probably have some idea of what you want. Now you're looking to commit. So we've rounded up the top 29 Oliver Wicks suits that would fit into any wedding day with ease. Feel free to browse for inspiration!
Still a little unsure what should go into your wedding suit shopping experience? Make sure you have a decent idea of the following:
The wedding venue. Not just vaguely, get into the nitty-gritty. Indoor or outdoor? Formal or informal?
The wedding time. Is this a morning, afternoon, or evening function? Evenings are always the most formal time for an event and afternoons the least. Mornings typically have a little formality around them but nothing like an evening function.
The wedding season. Summer heat needs different things from winter chill.
The dress code. If you've set a black-tie or another dress code, you need to pick a wedding attire in line with that.
The wedding colors. You probably won't pick your whole suit based on the wedding colors, but do consider them.
Finding the right look for your wedding day will be easy if you have a good idea of these specifics. Let's see how!
And for a quick glance at our top picks, here's a list!
Sometimes nothing but the most formal will do. If you're looking at wedding tuxedos for a whole black-tie event vibe, how do you choose something that still speaks to your personality? Oliver Wicks can make tuxedos in any fabric you choose, from velvet to sharkskin, wool, and beyond, but let's take a peek at some inspiring looks.
Every man should have a classic black tuxedo in his wardrobe. For many of you, it's the perfect addition to your formal evening wedding, too. Classic doesn't have to mean boring either! Like a kilt or a military uniform, a well-tailored black tuxedo makes a man look outstandingly elegant.

Made with all-season wool so that you can fit it into nearly any ceremony comfortably, this is a versatile classic that will serve you well for the rest of your life and will integrate seamlessly into any wedding look.
Are you looking for something elegant but a little different? Deep greens fit into every season and provide an understated difference that's notable without being out of place. Keeping classic tuxedo styling, but with the added interest created by the novel color, this is a statement piece you and your bride will love.
Bring in some more color, and style it with a warm jewel tone vest or cummerbund. Or boldly pair it with a white or champagne to match the bride in an understated, fun, and elegant twist.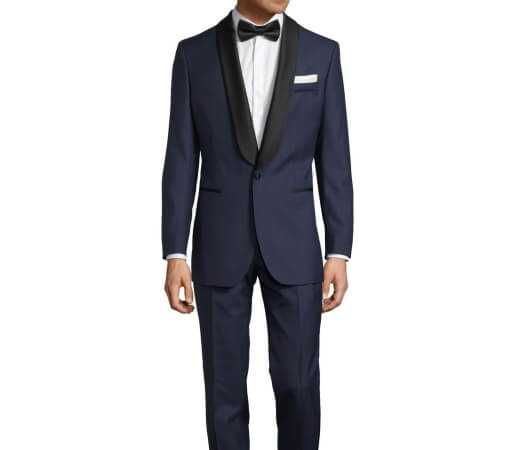 As we've mentioned before, an excellent blue suit can take a man almost anywhere. Now it can take you to the altar, too! This mid-tone blue tuxedo is a perfect twist on an elegant classic. While it will still easily fit into an evening event, its true versatility lies in the ability to work into a daytime wedding just as quickly. You might not be able to take this one to the beach, but it will go almost anywhere else and still look suave.
If you're looking for a thoroughly traditional, endlessly elegant classic two-piece suit, then why not check out our Super 150 range? This full range of custom suits is perfect for a traditional wedding that doesn't need the black-tie vibes of a tuxedo and will transition well to a life outside the wedding party, too.
A dinner jacket is an excellent pick for a less formal wedding and can even transition well up to black-tie when used well. There are many exquisite wedding dinner jacket looks, but let's take a peek at two classics.
If you want the perfect balance of "fit in" and "stand out," this is the look for you. A deep burgundy dinner jacket will pair well with any level of formality and has a sophisticated vibe it's challenging to argue with. We'd put this one at a summer evening wedding, but it will go anywhere.
A white dinner jacket with crisp black tuxedo pants has long been a relaxed-yet-formal alternative to a full tux. It's perfect for a black-tie summer wedding or a destination wedding with a difference.
Remember that almost any suit look can be recreated as a blazer by the Oliver Wicks team, so if you see another look you'd prefer as a dinner suit, reach out and chat with us.
If you're getting married in winter, every single classic wool suit is an excellent match so that we won't dive into them. You'll see plenty in this style guide. However, if you're hosting a summer wedding, you want a suit that lets you breathe without overheating. We've looked at the many ways that linen wedding suits are perfect for summer before, but let's look at some specifics.
Summer evening weddings can be challenging to dress for. You want all the suave evening romance of a formal event. Stuff that would look rocking on the beach in the daytime isn't going to cut it here. However, you don't want to cook your way through your wedding either. No one wants to look red-faced and sweaty 10 minutes into the vows!
This forest green linen suit ticks all the right boxes. It's dark enough for evenings but with a vibrant color that's appropriate for the season. It suggests lush foliage, bright flowers, and summer romance. The linen will keep you cool even through a long night of dancing, but you will look sophisticated and intelligent in pictures. It's also a "nearly neutral" shade, which means you dodge monochrome but can still get away with pairing a bright shirt with it without looking over the top.

This is the perfect match for a romantic night spent outdoors. Whether you're dancing under the stars, posing in the formal rose garden, exchanging vows under a floral arch, or heading to the beach in time for the perfect evening light, this suit will keep you looking your very best through your special day.
This unusual wedding tuxedo probably won't make it through an entire black-tie event, but it's the perfect marriage (pun intended) of summer colors, lightweight fabrics, and tuxedo styling. So you're looking suave and sophisticated, but you're staying cool at the altar.
Charcoal is one of the best wedding suit colors for a reason. Put soft pastels underneath, and this will make a champagne breakfast outstandingly elegant. Pair it with an evening-to-night summer wedding, and look fabulous all the way through. Are you choosing a vineyard or historic church as the backdrop? You have the suit right here; all you need is a crisp white shirt.

It's also an excellent choice for the wedding party; it can easily have pops of color added to match the overall theme and suit men of all ages, sizes, and skin tones. Dress it up, or dress it down – it works either way. You can even take this one to the beach with a straight face and look great doing it. We'd advise this one for a more formal beach wedding (yes, they exist). It's the perfect way to keep enough formality to take good pictures and look serious about your wedding day without leaving you out of place on the sand.
Did you fall in love with our forest green linen suit, but you're tying the knot in fall or early spring? This 100% wool dark green, slightly stretchy suit is still lightweight and comfortable but with a snug warmth that will transition well into winter in most locations. It's got classic style written all over it, so you'll easily make this suit work for years to come despite the unusual color. Hey, it will even convince and turn heads in the boardroom!

This is an excellent choice for those awkward inter-season shifts, where you can't be entirely sure what the weather will do. Wool will keep you warm, while intrinsic breathability means a sudden friendly patch won't have you sweating. It's also a fantastic selection to pair with a bride who's wearing ivory or a wedding drawing from a warm fall color palette. Whether you're matching the season or bringing a ray of warm light into early winter, this suit has real potential to be a go-to choice in your wardrobe in the future.

If you're looking for understated elegance and warm colors, look no further than this beauty.
Fall and winter can be dour seasons for a wedding unless you're in a climate where you're guaranteed a crisp coating of flawless snow to make up for the temperature. Mohair is often sold as a summer fabric because it's cool and breathable, but let's be honest – you need cool and breathable at your wedding regardless of the season, especially as the groom. Between stress, the formal clothes, and a day spent on your feet, you need your suit to keep you cool and collected, and mohair could be a secret weapon for that.
This chocolate mohair wool suit changes a late fall wedding from something where the weather can quickly spoil the day if it's uncooperative into a celebration of warmth and vibrancy. It's an unusual color and won't work on all skin tones, but it's a beautiful way to inject a warm glow into the day. If your bride is going full white in the gown, it will also tone down that starkness and reinvent it into a clean part of the pairing. The chocolate brown is also a better color choice for a daytime wedding in these transitional wedding seasons, as it's formal enough for the night but not too monochrome for a crisp morning breeze.
Seersucker is an undervalued summer fabric that will fit nicely into many venues where wool is a no-go (like the beach). This classic seersucker suit has a lighthearted and whimsical stripe that brightens the overall tone and makes it perfect for a romantic summer's day wedding anywhere – on the beach, in the garden, or at the country club.
Are you looking for a wedding suit that will match the mood of your venue? Not only can the wedding venue set the tone for formality, but it's also a good idea to make sure your suit is at least generally in line with the vibe of the place. This helps ensure your wedding photos look great and integrates the venue into a gorgeous frame for the overall wedding.
Beach weddings can be surprisingly tricky to dress well for, especially as the groom. There's a lot more scope for the bride to tone down her dress and still look romantic, dreamy, and bridal, whereas it's easy to cross the ugly wedding point of no return where the groom looks like he didn't care enough to dress up for his wedding.
Not with this beauty, however! This antique linen suit has beach-and-yacht vibes all over it. It's relaxed and comfortable for summer in the sun, but you don't sacrifice an ounce of style. You'll look cool, calm, and collected but still like you're marrying the love of your life. It's also easy to dress up with a hat or pair with a whimsical, bright bow tie or pocket square to take some of the formality out of the picture.
That said, it would also make a fantastic selection for a champagne breakfast or to take to a flower-heavy outdoor wedding. In fact, for anywhere that's light, bright, and breezy, this suit will fit in perfectly.
A vineyard is one of the most evocative, romantic settings possible for a wedding. Here, you have the best of wild nature tamed by man. You have rolling hillsides of vines and flowers telling tales of the vintage to come. You have gorgeous architecture and exquisite flora, all rolled into one. It's classy and enduring and one of the most spectacular backdrops for a summer wedding you could imagine.
You have a beautiful bride and a fantastic venue – are you going to rise to the challenge? This khaki linen treasure from the Oliver Wicks collection brings cool confidence, and the linen itself will keep you comfortable no matter how hot the sun is. The khaki color has a romantic tinge that's hard to beat, and there's almost nothing you can't pair with this "novel neutral" to create the exact mood you want. Soft pastels and bold brights will look equally good. Pair it with tan leather for casual elegance, or slap some converse trainers underneath for a relaxed modern take. Hats or sunglasses, pocket squares or bracers, whimsy or formality – this suit has the potential to go in any direction. Let it be the relaxed and sophisticated canvas that inspires the rest of the wedding party to the perfect look.
Want to celebrate in style in a banqueting hall but don't want to look like one of the wait staff? Dark burgundy or low-key ruby makes for a great way to stand out of the crowd without taking it too far. It can also be an excellent choice for the groomsmen for that reason. It also pairs outstandingly well with a bride wearing ivory, champagne, blush pink, or off-white, bringing out the very best of those traditional bridal gown alternatives.
Anywhere where warmth, understated sophistication, and a slightly casual air are needed, this burgundy choice can take you. This means it's an outstanding choice for "difficult" wedding venues like a formal banquet hall but non-evening reception, a hotel, a nighttime outdoor wedding, a "semi formal" dress code, or a transitional season like spring and fall. The wedding photos will look fantastic, whether you're standing in the church flower garden or under snow-laden trees in the woods. There's almost nowhere where this versatile, yet slightly unusual, color won't go well, so let your creative side out to play.
As we've mentioned before, when in doubt, go gray for a wedding. It doesn't have the stark monochrome look of black, it's straightforward to wear, and it keeps the right formal vibes without beating anyone around the head with them. It also looks good with all of the traditional white and white varieties used in bridal gowns and can easily have colors added to the mix without risking clashes.
This classic men's charcoal pick and pick suit is a perfect example of how a dark gray wedding suit can be a way better choice than black. If you're concerned about its practicality, you can quickly see how this can go to the boardroom as well as the wedding. It's an elegant slim fit and acts as the perfect blank canvas to build a wedding suit you can all be proud of.
Are you looking to be a bit more adventurous or have a daytime ceremony? This paler soft gray pick and pick suit lifts your look into a summery, lighter vibe that will easily fit into warmer, earlier, or less formal settings without sacrificing appropriate elegance and style. You can't go wrong with this, whether it's for the groom or his groomsmen, and it should be on every wedding shortlist.
The texture is an often-neglected way to introduce personality into even the most formal settings subtly. If you don't want a bold pattern but want to stand out, using something like this gray birdseye suit is a cheat code for understated elegance.
Men instinctively shy away from patterns on their wedding day, but it's always worth reconsidering that stance. Something like this dark gray check is undoubtedly bold, but it has a character that's hard to beat. This is the perfect pairing for an unusual or whimsical bridal gown. It can also bring just the right balance of freshness to a springtime wedding or just enough warmth to a winter one.
If you've only ever thought of tweed as something professors wear, think again. Modern tweed suits can be super elegant and provide a pleasant bit of texture to titillate the eye. If you're looking for an interesting, yet understated, way to do your wedding suit differently, this could be your perfect match.
Blue is our other go-to recommendation for wedding suits because you just can't go wrong with it. Let's see why.
Navy is our go-to recommendation for men who don't know what to do with their wedding suits. It's not going to be the most out-there statement you make, but you will look elegant and classy no matter what. Also, if you stick to a classic suit design, it's not going to date with time.
Want to keep the power of blue but make yourself stand out a little bit more? Try this intense blue suit on for size. With the lifted and saturated color, you can easily take this one into a daytime or summertime venue while keeping all the classic elegance of navy. If you were looking for a suit to style casually, you could throw a crisp white shirt and equally bright sneakers underneath this one for a modern casual look that's hard to beat.
Weddings can be expensive affairs, and no one wants to spend more than they have to. You also want to make it easy on the wedding party who celebrate with you and ensure everyone you love can afford to be there on your special day. The budget doesn't have to mean inelegant, and these stunning picks prove it.
Honestly, we can't overstate just how well gray can work as a one-fits-all wedding suit color. Look at this elegant mid-tone gray pick and pick a suit. Dress it up or down. Make it the neutral backdrop to some whimsical accessories or the perfect canvas for a bright shirt. It's easy to wear, comfortable, and will quickly work with a range of leather accessories your groomsmen already have, so it's a great choice to keep the budget tight.
This navy blue pick and pick suit option shows precisely how good you can still look on a budget. This versatile and classic color is an excellent choice for almost any setting, so you seriously can't go wrong with this one.
If you're shopping for black-tie tuxedos that won't break the budget, remember it's about elegance, fit, and style – not necessarily the price tag. It's perfectly possible to pick up a well-made and versatile classic black tux at a price everyone will love, so don't shy away from this traditional and elegant wedding style on cost alone.
Not sure which way to go? Have no strong feelings? Need to fit into a beach or daytime wedding? Look no further. This budget-friendly but endlessly elegant gray linen suit has everything you've been looking for in a warm-weather wedding suit, with no hassle or fuss.
When you're shopping for the wedding party, you tend to keep it classic, so your groomsmen can use the suit elsewhere. If you're a bold modern groom, however, there's no need to hold back. While some of these unusual wedding suits would need a lot of confidence to pull off, it is your wedding day, so why not enjoy it?
Red is an incredibly striking combination in a suit, as this gorgeous ruby linen suit shows. It's understated enough to still look appropriate at a formal function but with enough pizazz to draw all the attention – in other words, the perfect match for a groom who doesn't shy away from the spotlight.
Patterns are a great way to express individuality in a suit and carry a luxurious vintage feel that's hard to beat. If you like to look different, are a goth searching for a formal wedding look that still showcases your personality, loves vintage looks (or have a bride that does), or want to channel some robust Gomez romanticism, try this wide pinstripe on for size.
This bright denim blue linen suit makes for an unusual choice, but it has a gorgeous combination of optimism, brightness, and whimsy that's perfect for a wedding. This would make the ideal statement piece for a groom at a beach or boat wedding or a solid canvas to build a fun, informal wedding party around.
Like the idea of a stand-out statement suit? The proud plum is very loud and will need the proper wedding and the suitable groom to rock it, but if you want something that's out there and the avant-garde while remaining impeccably fitted and tailored, it's worth considering. It could also be a perfect match for an unusual couple or offbeat wedding.

These top 29 wedding suits are, of course, only a sample of the potential open to you, so if you haven't found your perfect match yet, don't hesitate to reach out.
What do you get when you mix the very best of European design with top-end Italian fabrics and a perfect fit?
An Oliver Wicks wedding suit – that's what!
This is a once-in-a-lifetime event, and you need yourself and your groomsmen to be dressed to impress. What better way to do it than in a made-to-measure, top-end custom Italian wool suit made especially for the big day?
Here at Oliver Wicks, we understand that the poise and suave a good suit brings you isn't just for one day – it's for a lifetime. That's why we use only the best Merino wool from Italy and the UK and source high-quality cotton and linens for our products.
Tailored in Europe to your precise specifications, we ensure every wedding suit is a one-of-a-kind statement of your love and devotion.
The best fabric in the world wouldn't make up for a bad customer experience. That's why our dedicated customer support team works to make sure you get the treatment you need and deserve.
From answering critical questions about your suit to matching you up with the best possible choices, we're proud to play such a central role in your wedding day. Don't be afraid to lean on our expertise to help you make the right choices.
We offer free shipping, free remakes, and free returns to give you all the peace of mind you want. Need a local tailor to perfect the end fit? We offer refunds of up to $125 (€100) for any custom suit order and up to $50 (€40) for any ready-to-wear suit or other tailored garments for a year after purchase. We also ensure there are no nasty budget shocks caused by customs, as we take care of applicable duties on shipping.
In short, the Oliver Wicks difference lies in the care. We're not selling a suit; we're selling an experience. From the quality of the artistry to the care we treat the customer, we aren't here to deliver average. It's all about being exceptional – as exceptional as you'll feel in your Oliver Wicks suit!
So when you buy a wedding suit from Oliver Wicks, you're not just buying a case. You're embarking on a top-end experience from start to finish. We can't guarantee the wedding will go off without a hitch, and we can't quiet the pre-wedding nerves, but you'll know your wedding suit will stand up to everything you throw at it – and that's a promise.
Have questions about men's wedding suits? We have the answers you're looking for!
There's a balance to strike here. You don't want to buy the perfect suit too early and find out your measurements change between now and the wedding. When ordering wedding suits, you need to get them timeously for each groomsman to try on and tweak the fit. Some room for fixing errors is a smart move, too.

Good tailors need time to work their magic. If you're ordering an entire custom wedding suit, that goes doubly so – just like if you're ordering many suits for the entire wedding party. No one does their best work rushed, and do you want to wear something rushed, anyway?

So how do you decide? First of all, figure out who you are ordering your wedding outfit from. Ask them about their "lead time" – the minimum notice you can give them to get what you want to be delivered on time. This will vary from supplier to supplier, and you must keep it in mind.

Remember, this is a minimum time, and they will appreciate more time. We suggest that by 4 months out from the date, you should have everyone's measurements and be placing orders. By 6 weeks, you should have the suits in hand to fix and alter as needed. Whatever you do, don't be that guy trying on his suit for the first time the morning of his wedding!
Many things go into choosing a wedding suit. Key considerations are the budget, style, and look you want. Then you need to consider both the venue and the dress code. A formal wedding in the evening will need a different look from a morning beach wedding.
Here, you should also consider the "climate" of the wedding. Is this full summer heat? The middle of a snowy winter? That will factor into the fabrics used for the suit.
Did you set a dress code? Modern weddings are typically either semi formal or black-tie, and this can vary by culture and area. What styles are appropriate for the dress code will depend, but make sure you know it.
This should lead you to a shortlist of styles and looks. Next to consider is color. The wedding colors should be given some consideration, but having your groomsmen (and yourself) match the colors entirely is a bit twee. You're an essential participant in the day, not the furniture!
Instead, see if you can add a nod to the color scheme without going full matchy-matchy.
How much do you want to accessorize? This is best discussed with your partner, so you know if a boutonniere and other shared pieces will be used. Consider the style and look of the bride's gown, too. It doesn't matter how good you each look separately if there's a mismatch as a couple.
From there, you should build a list of suitable matches to what's needed and what looks good. After that, let your taste drive the rest.
This is a tough one. Good suits cost, and no one wants to waste money on a bad suit, either – at least a good suit has some potential to be reworn! A lousy suit is just a wasted sunk cost.
All the same, you don't want to be that guy who turns into a groomzilla and expects his groomsmen to shell out beyond their means. Keep your expectations accurate and matched to your friends' circle. It's your wedding, not theirs.
It's a difficult conversation to have, but we suggest you take this one to an honest face-to-face conversation. What are they happy, on average, to spend? What are you contributing to?
Understand that some exceptional people can love you dearly and desperately want to spend your special day with you but can't afford to cough up a lot for your dream wedding.
No one should face peer pressure from you to shell out dollars on your chosen suit when they have bills, families, and other costs to meet. Make sure you're letting them pay from their discretionary fund budget, not demanding a slice of their monthly needs!
This might be best handled in individual talks, so you can understand if one of your special people can't meet the financial obligation, everyone else can so no one feels embarrassed. Keep your expectations to the agreed budget, and understand that few people can pay endless amounts for the privilege of sharing the day with you and your partner.
Keep an eye on how wedding expectations develop overall with this in mind. You don't want to destroy friendships forever for just one day. Looking good matters, but having fun matters too. Don't suck all the fun out of the experience over the fashion choices.
Traditionally, yes.
Groomsmen pay for their suits if they're buying, even though you pick the look. This is done with the overall understanding that you're not going to be that groom who sticks them with a bright lavender bell bottom abomination they can never wear anywhere else.
You should be looking to introduce any oddities through (cheaper) accessories and leave your guys with a good suit they can use at other venues with a few style changes.
That doesn't mean you wash your hands of the matter, though. The understanding is that the only thing they're doing is sending measurements and wearing the suit.
You're supposed to find the supplier, see if you can leverage a discount or great rate, and coordinate the overall order. You're the point of contact between the suit source and the boys and their liaison between your bride or partner.
These days, many standard wedding etiquettes are falling by the wayside, so it's not impossible to bend these rules. However, you're going to look super tacky if you don't contribute something to the costs.
Do everything you can to bring these down, too, mainly if you're not covering them all. Your groomsmen, like the bridesmaids, are special people celebrating your day with you and already shouldering "work" that regular guests don't have. Don't treat them as set decor.
As a cute nod to tradition, by the way, some best men buy bow ties or ties. Make sure you clarify that between each other so no one ends up bare-necked on the day!
Generally speaking, it's cheaper to rent a wedding suit than to buy one. There's a good reason for that – it's not yours. You will only be able to undertake minimal alteration if any, and you have to accept what you get. Selection is typically minimal, too.
Buying a wedding suit can be a far better investment if you're smart. Choosing something that will have future potential means you're not investing in one garment for a day but rather one you can wear for a lifetime. This means you can choose something you truly love and embrace your style as well.
Tuxedos are typically more expensive than suits. The average US groom spends around $350 on his suit, but that's "average" and covers everyone from the guy who rented the cheapest thing he could find to the man in a bespoke silk suit. It's better to look at these things in bands based on what the groom wants out of the experience.
Most wedding suit rentals cost $165–200. It's a quick and cheap option but very limited and not for everyone. In the mid-range, most grooms shell out between $300 and $800 for a tailored, versatile suit they can wear and which fits comfortably and will last forever. If you're going black-tie, like high-end fashion, and want to ensure the best day of your life is completely elegant, or want to look your very best, high-end suits cost in the $800–1500+ range.
It's typical, although not essential, for the groomsmen's suits to be slightly cheaper than the grooms. Bulk discounts can help there, too.
Many factors drive what color wedding suit is appropriate, including dress code, formality, time of day, and venue. If it's a wedding "type" like a beach or destination wedding, that can also affect the colors you can wear convincingly.
The couple's choices also matter. An offbeat bride who's not wearing white will likely want a more vibrant and unusual wedding than someone going strictly black-tie. Some people care a lot about what every guest wears, some care only about coordinating the wedding party itself, and still, others don't care at all. So it's good to check this with the couple if in doubt.
Black is classic and will never be "wrong" but can be surprisingly unconvincing outside of black-tie. You can run the risk of looking too formal and stuffy unless the dress code matches that, or it's evening. It's hard to go wrong, no matter your coloring or skin tone, with navy. Other shades of blue are a pretty safe bet, as is soft gray or charcoal, especially during the day or day-to-night.
Tan suits are an excellent choice for daytime, warm weather, or informal venues (better than black, in fact, in those cases) but can be hard to style for many men. If you're taking a partner or plus one, don't forget to consider their outfit, too. Matchy-matchy is a little uncomfortable, but you don't want to be wildly different either.
Absolutely!
A man can't go wrong with a classic navy suit. For many weddings, we'd go as far as to say all but the most strictly black-tie make a perfect venue for other blues, too.
Steel blue/gray, muted blue, mid-blue… they all look great on a man, and you can rarely go wrong with them. They strike a near-perfect balance between personality and style.
We would save the palest and brightest blues for outdoor, daytime, and summertime events. They can look out of place at night or in a formal setting. The only time we'd advise avoiding blue is if you're aware that the groomsmen, especially the groom, are wearing a similar shade or it's a wedding color. It's not the end of the world even in this case, but you will look a little strange, almost matching the wedding party but you aren't actually in it.
A lot of wedding color etiquette comes from superstitions around what will bring the couple bad luck. It can also be significantly influenced by culture, so ask the couple if you're unsure.
Traditionally, you avoid pink, yellow, gray, green, red, black, and white in the West. This mainly was aimed at the wedding dress itself, as men's suits (including the grooms) have always been OK in charcoal or black.
The big "flashpoint" colors are white, red, black, and possibly green for guests. We doubt any modern wedding party will care about pink or yellow, and most won't care about green, either.
Many of these older dos and don'ts are being dismantled in modern weddings, especially the prohibition against black for female guests. This is due to practicality – most women own the "little black dress," which may be their only formal wear. Buying a whole new dress to wear to weddings can be costly. So there's more wiggle room these days.
As a man, we'd suggest keeping to a dark ruby red or sage green and other muted shades of those colors if you want them and checking that with the couple if they're more traditional.
Do bear in mind that in some cultures, white is the wedding color, and in others, the bride wears red, and in some, white is a mourning color. Female guests will be eviscerated for wearing white to a wedding – and rightly so, it's super-tacky to "challenge" the bride like that on her day.
You're a man, of course, but we strongly advise avoiding both of these troublesome colors for ease unless you're very confident in how you dress and what the couple wants, with one exception, that is. A white dinner jacket has always been acceptable for formal events for men and is an excellent alternative to a full tuxedo in black-tie weddings as well as something you could transition to a less traditional setting, so don't exclude it.
As mentioned above, it has always been OK for a man to wear black to a wedding. At a black-tie event with tuxedos, it's nearly a requirement! The prohibition used to be against women wearing black, but it's more or less fallen away these days, and only very traditional people will look down on a wedding guest wearing black.
That said, be respectful and match the vibe of the wedding. You don't want to look like this is also your funeral suit (even if it is)! So save the black shirt, pocket square, etc., for another day, and pick a crisp white or a fun color for your shirt and accessories.
Remember that black doesn't always look sophisticated on men at a wedding. We don't have the same loophole as women's formalwear because a suit or tux is already pretty formal, and black only amplifies that. You'll look ridiculously out of place at a beach wedding in a black case. So, navy and gray are safer bets for a wedding suit choice unless it's evening and the event is appropriately formal enough to carry black.
Have any other wedding questions? The Oliver Wicks team are your go-to wedding suit experts, so don't hesitate to reach out with your suit questions.