Black Shirt Black Pants for Sleek and Sophisticated Look
While elegant and sophisticated, an all-black suit look can fast become somber and funerary if not properly styled. It's for this reason that both navy and charcoal suits are typically recommended for office day wear. However, if you love the sleek lines of black, or you are a fan of the rising fashion-forward all-black looks that we're seeing in the media at the moment, don't pack your black away just yet.
A black shirt and pants combination can be a vibey take on smart-casual for the right workplace or a date. Today, the expert tailors of the Oliver Wicks team will walk you through making this unusual look work for an office environment, or date, the right way.
Despite the rising media trend—which admittedly looks fantastic in a glossy fashion photo shoot—the bold fact of the matter is that styling all-black looks is tougher than you may think. Even when done well, it's very bold and eye-catching, and it needs a confident man to carry it well. It has to be a good match for your skin and hair, too, or it runs the risk of leaving you looking washed-out and gray, or far too monochrome.
Not all blacks are created equally. Believe it or not, black-dyed fabrics still carry noticeable undertones, leaning either toward deep red-brown hints or 'true' blue-black. This is actually why no two black-haired people have identical looks! Don't believe us? Simply spend a few hours on any shopping trip trying to match black clothing items together—you'll quickly realize how varied the blacks in fabric can really be.
Additionally, when talking about dyed fabrics specifically, black is a fussy dye that doesn't always wear well, especially if it isn't laundered correctly. It is common for black clothes to 'leak' for many washes when they're first bought, and this can quickly cause what was once a crisp, clean black to become dull and dingy. While using high-quality, natural fabrics that hold dye better can offset this a little, it can still be problematic for daily wear. This makes it tough to keep black looking elegant.
So, as a rule of thumb, black outfits—especially all-black outfits—are best reserved for occasional formal wear (like tuxedos and prom outfits), casual settings, and, of course, relaxed offices where you want to look smart but also a little trendy.
Undeniably, the core of the smart-casual all-black look starts with crisp, clean, and well-cared-for black jeans and a smart shirt. It's casual, yet sophisticated, and strikes a bold look that's tough to beat. You should use a smartly constructed (and well-cared-for) black shirt with a vibrant dye to pull this off well. It goes without saying that the jeans need to be smart and crisp, not your most relaxed pair of distressed jeans!
You can upgrade this a little with black chinos. Because of the tighter, sleeker nature of this look, you will be best served by picking a modern or even slim fit, and your pants will need to fit impeccably. If you wish, you can throw a navy or charcoal sport coat over your pants for a little added formality.
It's worth mentioning two other stand-out black top choices here. You can make a very well-constructed and smart look from a black turtle or polo neck sweatshirt, provided it is well-made and hugs the body. You can also use a standard crew neck T-shirt with black pants for a casual statement that still looks elegant. However, in both cases, the shirt you choose needs to be crisp, bold, and smartly fitted to your body. No grungy washed-out T-shirts, baggy slops, or stretched necklines here! Remember, the fit that suits you, isn't just the Oliver Wicks slogan—it's also a key component of dapper dressing, from smart-casual to formal and beyond.
In cooler weather, you can finish off the smart vibes of this look with a smart black overcoat or jacket and even a scarf for casual elegance. For a quirkier, but elegant, alternative look, you can add a smart black suit vest, too, possibly with a pocket watch to finish the look.
Honestly, we would advise against trying to upgrade the all-black look out of smart-casual. In a true formal setting, a black suit will become your go-to wardrobe staple and even the smartest separates won't cut it.
As we've looked at before, black suits are less versatile than you may first assume. Even with a crisp white or soft pastel dress shirt to lift it a little, a black suit can easily err into either funerary or utilitarian. Going all-black in a suit will make you look more like a high-end waiter than the king of the boardroom! While undeniably smart, it's best left for more casual settings where you can bring some life and vibrancy to the look to lift it.
That said, all-black suit looks can make a transition to 'fun and funky' formal settings, like a formal dance, prom, or the red carpet. However, to make the look work, you need to be able to build it up with a bold, fashion-forward flair that is less sartorial and more editorial in style, so it's best not to have it as a go-to formal look.
Circling back to the office, can you make this type of smart-casual look work there? If your go-to office default is a suit, no. However, this sort of smart-casual look will work perfectly well for creative and artistic workplaces, as well as anywhere where jeans are acceptable office protocol.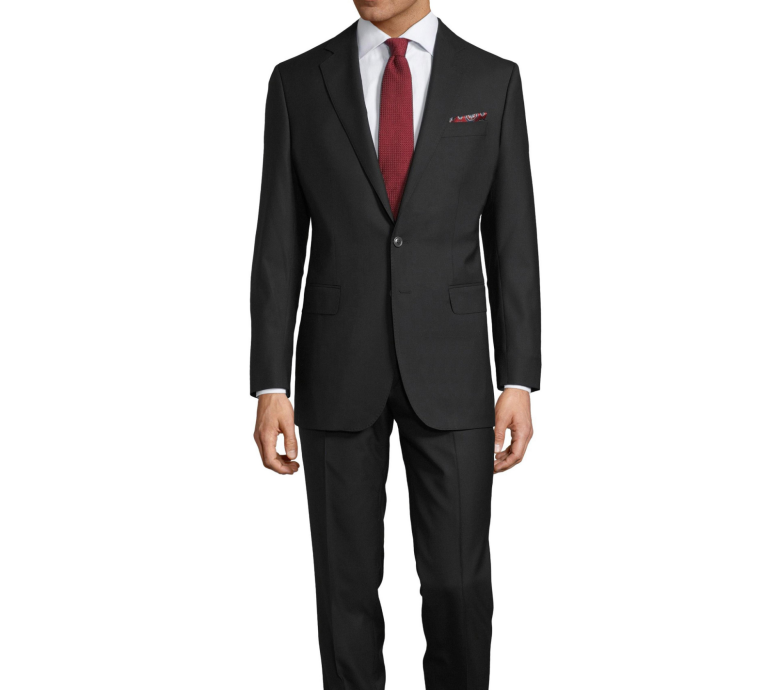 It can be, in the right setting. This will strongly depend on the venue you're heading to. A casual black shirt (or smart polo/T-shirt) and black pants can be a great choice for a casual daytime coffee date, for example. It's put together enough to be respectful to your special someone, but relaxed enough to fit the vibe well.
Surprisingly, you could also make this look work well for certain fine dining establishments and an evening date, with a little care. Leave the tees off for this one, and stick strictly to a great shirt. You may even want to skip the button-down and choose a button-up shirt with a great tie. If the weather is cool enough to justify it, this is where a great overcoat and scarf can really elevate the smartness of the look, too.
This look would also fit well with arty, trendy venues, like dinner theaters, Broadway, and art galleries. It's trendy enough to fit in, but still smart enough to retain elegance. It is a difficult look to pull off though, for sure, as it can easily look like you're trying too hard. If the venue would be better served by a classic suit, however, it would be better to opt for a different color combo.
The shoes that match best to your black shirt and black pants look will be highly dependent on the function you're wearing them to. To retain a true aura of sophistication, your best go-to default will be a smart and well-cared-for pair of black men's boots—something like Chelsea boots would be perfect. If that's the vibe you need to build, you will be best served by smart black leather, but steer away from high-shine looks that lean a little too closely into black tie dress codes. A matte or low-shine leather, or a smart suede, will get the job done beautifully.
If your venue is less smart and more casual, you can 'downgrade' the look while keeping the sophistication with smart sneakers. We do mean smart, however! Keep your grungy favorites for the weekends and take the time to show off a quality pair of high-top kicks instead. Both black and ultra-clean white will work here—or a combination.
Lastly, but certainly not least, for daytime casual looks, you can consider a pair of black suede loafers. This is probably the least smart of the options on our list, but it carries a casual elegance for daywear that you can make your own.
Not sure how to pick the right shoes for a look? The Oliver Wicks website has tons of easy tips and tutorials for our subscribers to enjoy. All you need is an account (no purchase necessary) to access this wealth of style information—-you can sign up from any page on our website to get access.
As this is more of a casual-smart look, you'll typically want to use a button-down black shirt with your black pants. Button-down shirts are not typically worn with a tie, so you can go with an open neck here easily.
Adding a tie to the look will likely take it out of smart-casual and into a full formal look, unless you're very careful. Typically, you'll want to make a bold and splashy, clearly fashionable, tie choice to make it clear you know what you're doing. This could be a fantastic opportunity to add a pop of bright statement color to your overall ensemble.
While a black shirt and black pants combo isn't for every space, it can be a remarkably elegant smart-casual choice for the right occasion. Styled with a little panache, it makes a bold statement wherever you go, and it could be a fantastic choice for a fashion-forward gentleman looking for something modern and sophisticated, yet easy to wear.
From a smart-casual creative office to a date night, this is a look to have in your mind, but as we say, it is a difficult look to pull off convincingly! If you fancy the challenge, go for it! If not though, there are plenty of alternative looks that are charming, elegant, and foolproof - You have options!