BELTS
Don't think of your belt as the thing that holds your trousers in place. A well-chosen belt is an integral part of your outfit that adds a touch of sophistication.
The basic belt rules are to match the color to your shoes and the belt buckle – to your watch and cufflinks. The belt's end should lie between the first and second trouser loop. The glossier the leather, the more formal the belt is. The thicker and wider the leather and the heftier the buckle, the more casual it is.
As with shoes and bags, the more you can afford to spend on a quality piece, the longer it will last and the better it will look with time and wear. For starters, you will need one dress belt and one casual belt – the former to go with your suits and the latter to complement your blazer looks.
Belts for Suits
The width of the dress belt should be approximately 3 cm (1.2"). The buckle is simple and elegant. The well-chosen dress belt will not overpower your look, but quietly and unobtrusively become a part of it.
You should strive to own it in the three most basic colors – black, brown and tan. Black and brown are the obvious choices, while tan will be your go-to for the warm seasons with your lightweight suits.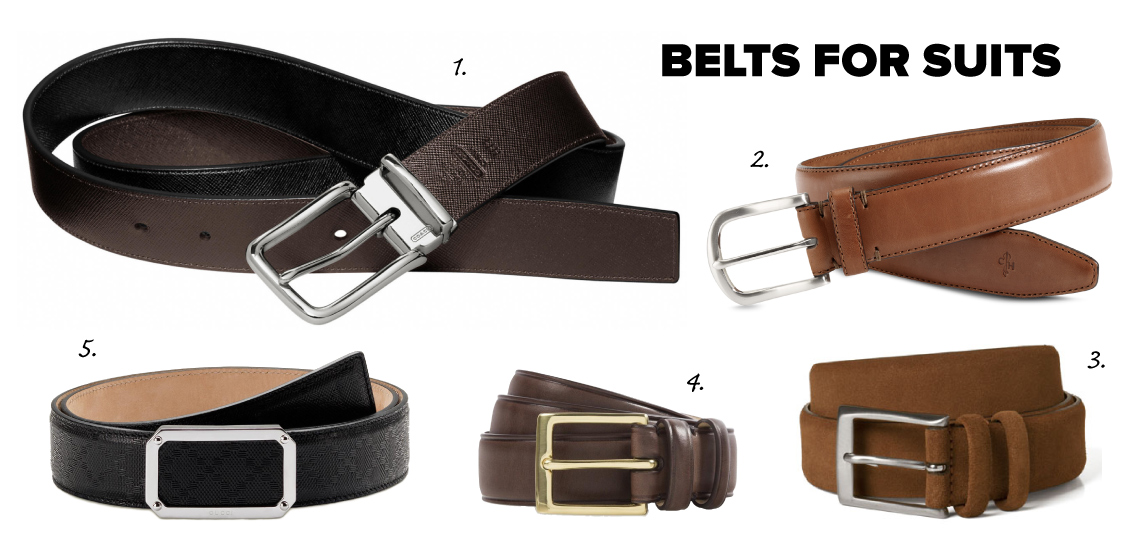 1. You can easily get away with owning only one dress belt, if it is a reversible black and brown one with a plain and classy silver-tone buckle. Make sure the leather is of good quality, smooth and finely textured. This Reversible Dress Belt from Coach will be worth the investment.
2. The next logical addition to the collection should be a tan belt like Cole Haan's Harrison Belt. Pick a shade that is closest to your tan leather shoes.
3. The suede belt is a great choice for your spring/summer wardrobe. Match the color to your loafers or monks. A brown one, like Paul Stuart's Suede Belt, is a certain winner.
4. If you own gold-tone watches, cufflinks and tie clips, you will need a belt with a gold-tone buckle. This simple Brown Leather Classic Suit Belt from Paul Smith will complement your other accessories without detracting from their splendor.
5. When you are ready to start spoiling yourself with luxury belts, you should consider the slide buckle. It may sound too casual at first, but this fine example of Italian craftsmanship from Gucci will convince you otherwise.
Belts for Blazers
The casual belt is normally wider than 3 cm (1.2") and is made from thicker leather. The buckle is heavier and can have an aged look that works nicely with jeans. You will need one in brown or tan, but don't neglect options like plaited, canvas, webbed and suede.
Unlike the dress belt, the casual belt can be a statement piece and not just disappear into the whole outfit, but stand out and make an impression.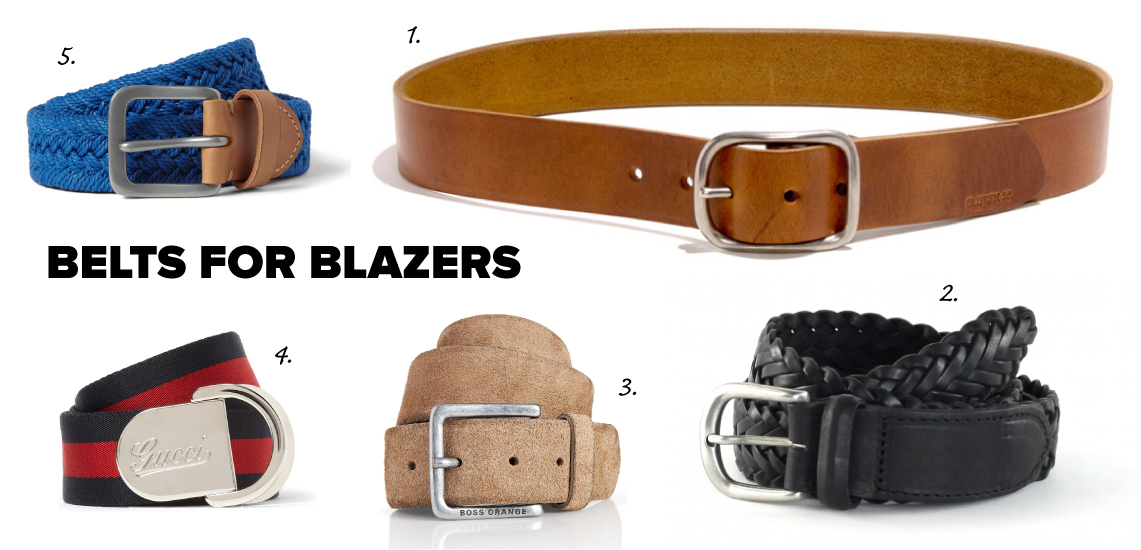 1. The ultimate casual belt you should get your hands on is a tan one with a simple brass buckle. Billykirk's Center Bar Belt will look great paired with jeans or chinos and your favorite custom-tailored blazer.
2. The best thing about a plaited belt is that you will not need to punch new holes in for it to fit. Royal Republiq's Past Braided Belt looks casually stylish and would be a nice accent in an outfit.
3. As with dress belts, suede will be a valuable addition to your casual belt collection. Jomy Suede Belt from Boss Orange has a heavier, aged-look buckle and a beige color, which would be superb for the spring/summer season.
4. Canvas belts are difficult to pull off, as they normally come in bright colors you need to carefully match to the rest of your outfit and, hence, play a more active part in the look. Try to echo a color from your shirt or blazer without overmatching it. A D-ring buckle is a nice choice in a piece like Gucci's Striped Canvas Belt.
5. Once you have mastered the basic casual belt, you can test your styling skills with something more challenging in bright, bold colors, like Paul Smith's Sky Blue Webbing Belt.