CUFFLINKS
The ideal cufflinks are the ones you inherited from your father, grandfather or great grandfather and the amazing story of how they became his possession. If there's no such story, make it up. Read some O.Henry for inspiration. This has the potential of becoming your favorite ice breaker.
Cufflinks vary in construction. The classiest ones are double sided with a thin chain connecting the two parts, but they do require the assistance of gentle female hands. The most common ones are the T-bar cufflinks with a moveable back, which are also easiest to manage on one's own. The other popular version is the barbell cufflinks, which are made from one piece of material and are generally bulkier. Silk-knot cufflinks are suitable for casual wear and can add an extra pinch of color to the outfit. They are also quite cheap, so you can stick to them if you're not ready to splurge on a proper pair.
Formal Cufflinks
If you are looking for your one and only pair of formal cufflinks, pick something posh and timeless and think of it as an investment you can later pass on to your offspring. The formal cufflinks should be simple and elegant, understated and refined, in gold or silver without excessive embellishment. For more affordable options, you should inspect the offer of vintage pieces at your favorite antiques store.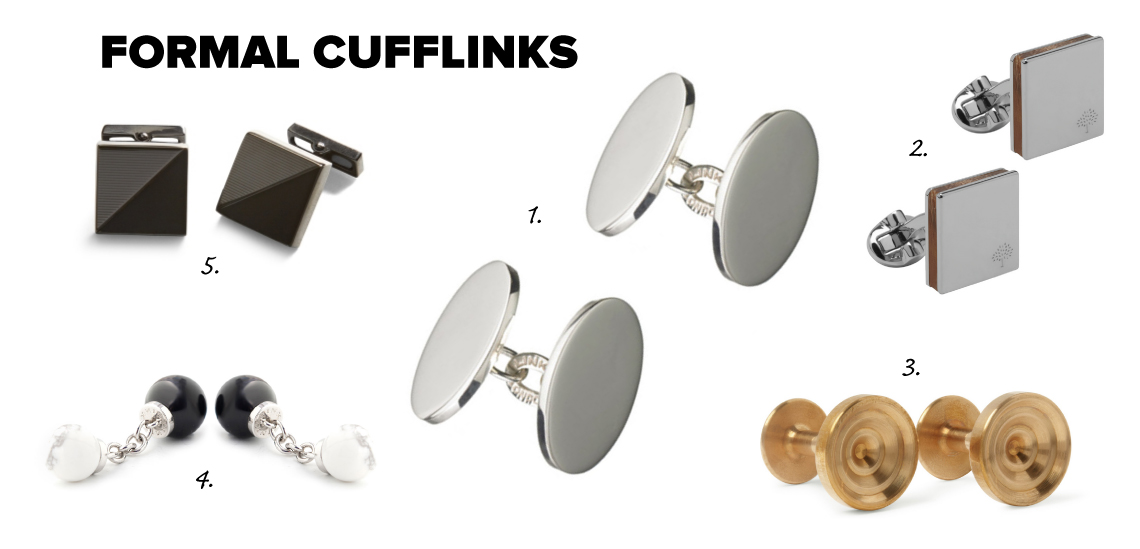 1. These Classic Oval Chainlink Cufflinks from Links of London are as classic as cufflinks get. They can work equally well with formalwear and business attire due to their understated luxury.
2. Square cufflinks are also a versatile choice. The ebony wood detailing on Mulberry's Sandwich Cufflinks will be that something extra for the distinct pleasure of the discerning eye.
3. Gold tones are a needed addition to every polished cufflink collection, so you may at some point wish to consider these Lucas Brass Cufflinks from Alice Made This.
4. Stones and cufflinks go hand in hand when it comes to black tie, but even if you don't frequent such events you can still enjoy some of their glamour. This reversible pair of Double Stone Cufflinks from Thomas Pink can work its translucent white into your daily routine and add some onyx black to your tux.
5. Black cufflinks are both business and formal. The angular shape on Kenneth Cole's Matt and Shine Cufflinks seems suitable for the gentleman with an appreciation for graphic design.
Casual Cufflinks
Calling the adornments on a French cuff "casual" may sound somewhat odd. Yet, not all cufflinks need to abide by the strict rules of formality. If you enjoy wearing a shirt with French cuffs, you can easily get away with wearing it every day, if paired with the right cufflinks. The casual cufflinks are supposed to be more easy-going and fun, without going overboard. You can rely on them to add more color, which should harmonize with the colors on your shirt and tie.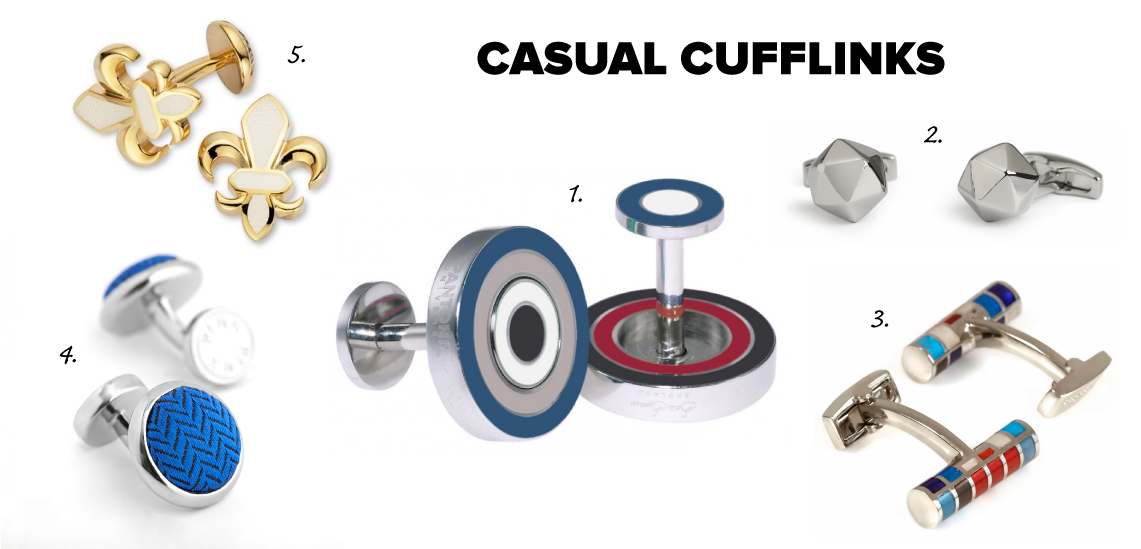 1. The ideal casual cufflinks are reversible, giving you an opportunity to choose the dominating color and match it better to your outfit. These Limoges Round Reversible Cufflinks by Sonia Spencer come in the foolproof blue and red color combo.
2. You can also use your cufflinks to show off your intellectual side. Take Simon Carter's Buckminster Cufflinks, for example. You can talk about their amazing shape, inspired by Buckminster Fuller's Geodesic Dome and their blatant awesomeness.
3. The Cylinder Multi Block Cufflinks from Hackett have just the right amount of color, so as not to offset your perfectly balanced palette.
4. If you think of adding not just color, but subtle texture to your cuffs, Thomas Pink's Woven Button Cufflinks will do the trick.
5. Looking for something more glamorous? The Enamel Ivory Fleur de Lys Cufflinks by Charles Tyrwhitt radiate regal magnificence. Just make sure you keep your other accessories quiet when wearing them.
Novelty Cufflinks
Novelty cufflinks must be approached with caution. They usually require an entertaining explanation or a witty joke. If you don't have one, you should not be wearing them. Pick novelty cufflinks that are relevant to you, represent an intriguing side of you, your job, your hobby or your interests. Stay away from pieces that boast copious amounts of rhinestones, if you're not a rapper. You should not wear novelty cufflinks to places and occasions where humor is considered inappropriate – church, funerals (unless it's you own) and court trials (especially if your own) are the most obvious examples. You should also avoid wearing them too often, as the joke will eventually wear out.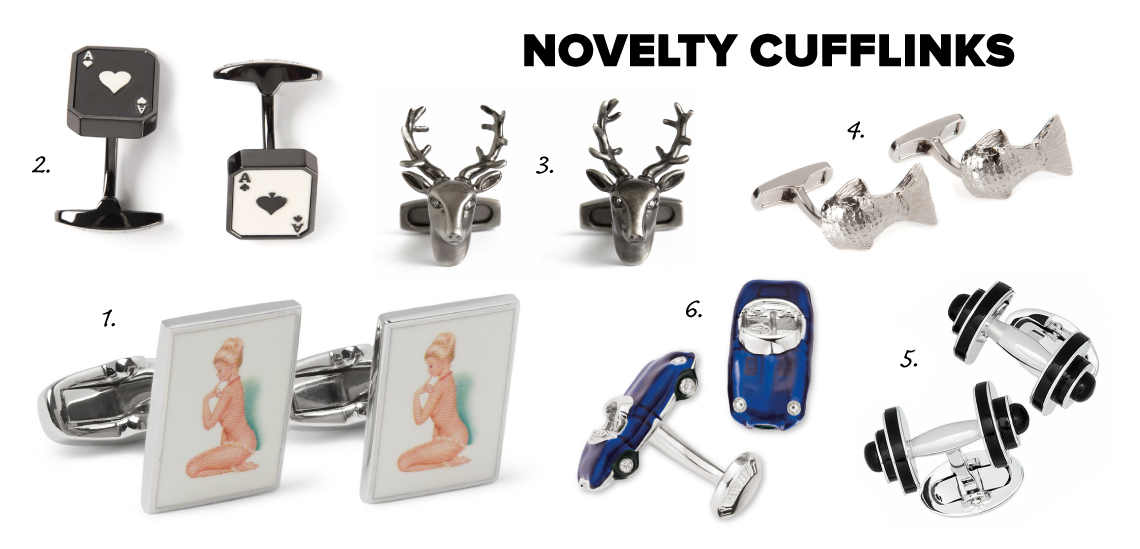 1. Paul Smith's Naked Lady Cufflinks are a logical choice for novelty cufflinks. Who could possibly mind a blond, naked pin-up girl decorating your wrists? Well, just to be on the safe side, don't pick these for dates, business meetings and dinners with her parents. Or, generally speaking, anywhere where naked lady accessories may not be appreciated.
2. For the keen and stylish card player, Paul Smith's Playing Card Cufflinks come highly recommended. Even if you are losing the shirt on your back playing poker, don't gamble these away. Keep them as your good luck charm.
3. Wear these Simon Carter Stag Head Cufflinks, if you are convinced House Baratheon is the rightful heir to the Iron Throne, but have your arguments ready for the ensuing heated debate. They are a fine choice for stag parties too.
4. If you are the kind of man that spends plenty of time at the gym, Jan Leslie's Silver Dumbbell Cufflinks might suit your taste. Don't flex your muscles too much when you show them off though, as you may send the wrong vibe.
5. If you enjoy fishing, fish & chips, mermaids and fishy things in general, go for Ted Baker's Balham Fishtail Cufflinks. Blue seems the most appropriate color to supplement the marine theme.
6. Charles Tyrwhitt's Blue Sports Car Cufflinks are the best accessory for every car salesman, Top Gear fan and suited driver, who plays around with speed limits.