The Watch and Suit: How to Pull Your Look Together
A stylish menswear look doesn't end with a great suit! While men typically wear less accessories than ladies, this doesn't mean that you can't wear any. You should, in fact, consider wearing a few well-chosen pieces to polish your presentation and cohesively tie your ensemble together.
Of these accessories, a great men's watch can be the perfect place to start. Today, the Oliver Wicks experts will walk you through the dos and don'ts of how to wear a watch with a suit.
Of course, not all watches are created equally! Once you've found your perfect custom suit, you don't want to spoil it with something inelegant, over-trendy, or just plain inappropriate. Let's quickly walk through the various types of men's watches.
Dress watches: Timeless and elegant, these are simple, fuss-free, and perfect for formal events and classic formal looks. Typically the strap is leather and simple, and the face is unembellished.
Diving watches: Popularized by James Bond, these are sporty but still stylish, with a fussier face and, typically, interwoven metallic bands. However, they are still slimline and elegant. The hands and dial are luminous.
Aviator watches: Also known as pilot watches, they echo certain characteristics of the dress watch but have an ultra-large face—they were designed to be worn over a pilot's jacket. Most are casual but retain some style
Chronographic watches: Very durable and packed with other features, they can have leather or metallic bands. With such a fussy face, you need a sleek band option if you want to pull this off.
Smart watches: More tech than jewelry, there's a lot of debate about the role of the smart watch in sartorial fashion. Most are simply not elegant. However, style evolves as life does, so the modern man can look to a simpler and more stylish design to wear with a suit as needed. But they have to work hard to fit into formal looks.
Now you know a bit more about the different types of men's watches that you can choose from, let's take a look at the right way to wear a suit with a watch.
Classically, you wear a watch on your non-dominant hand, both to keep it safer and to make adjusting it easier. But as lefties among us already know, most watches are designed for right-handed people to easily access the dials and buttons, so you can break this rule for convenience.
Ideally, the cuff of your shirt should almost, but not quite, cover the watch. If you want to be regarded as elegant and sophisticated, never (we repeat, never) wear the watch on top of the cuff.
This means that you need a band that fits correctly. Too loose, and it will flop onto your hand as your arm hangs naturally. Too small, and you'll never see it for the cuff and suit arm. Luckily, most jewelers can tweak the fit of the strap for you easily.
The right face size for you will depend on your own build (you could say, 'the fit that suits you'), but the watch shouldn't dwarf your hands and wrist. Ideally, it should sit easily at the point of your wrist. If the face of the watch feels awkward and presses on the bone at that point, it's likely too big.
Of course, not every watch will work for every occasion. We discussed the formality of various styles above. Just as you don't want to pair an informal watch with a formal suit look, you don't want to overdress either—so save the Rolex for the right occasion.
As a rule of thumb, leather and metallic bands are acceptable for most suit looks. Canvas, nato, and other options should typically be reserved for semi-formal or casual functions. However, if the look is very sophisticated and the color is elegant and well-matched to your suit, there's some wiggle room.
Judging how to balance strap color and your suit is a fine art and one that comes with a practiced eye. In general, keep warmer colors (brown leather, gold, burnished bronze, etc.) for warm suits or lighter colors, and pair your crisp monochromes (silver, black) with suits in a similar tone range. To get you started, here are some popular suit colors and appropriate choices
If you'd rather skip a watch and add some visual intrigue to your look, you can always opt for a pocket watch. We have a handy guide on wearing a pocket watch with a suit that you can mine for tips if you'd like. If you enjoy getting fashionable menswear tips like this delivered straight to your waiting inbox, feel free to sign up for our newsletter. You can do so from any page on the website in just a few clicks.
We are often asked how to wear an Apple watch with a stylish Oliver Wicks suit. It's time for a hard talk with our tech-loving friends. Typically, the answer is, "don't".
While smart watches are becoming more accepted as a fashion choice for more sophisticated occasions, they're still a loud and over-the-top gadget, not a true statement jewelry piece, and really are best left off for formal occasions. You wouldn't whip your Macbook Pro out at a black tie or formal wedding, and that smart watch isn't all that different. If only because sophisticated men pay attention to the event and people around them—it's going to be an awful temptation to fiddle and zone out.
That said, there's now a wealth of more elegant style options that can squeak into the same business-casual and semi-formal situations where a diving, chrono, or sports watch may be acceptable.
If you do want to wear your Apple Watch to a function, use the same color guidelines we've provided above. Sleek, sophisticated, and subtle are the keywords. Something vulgar, bright, overly big, or loud will leave you looking unsophisticated and inappropriate. Try a leather band to give you maximum versatility and style. Keep the face neat and stylish. And steer clear of rubber if possible—unless you're wearing a very breezy, informal suit, it just isn't a stylish match.
The same advice can be leveraged for digital watch faces, too. Try to lean into the look of older analog watches with a clean, simple face and high-end strap if you want to go digital. But a sartorially elegant man should always have a classic watch (or three) to wear to the most formal events.
There's one thing we hope goes without saying—if you wear a digital or smart watch with a suit, be considerate and mannered. Turn off alarms, tones, and notifications, and don't sit fiddling with your wrist instead of living life in the moment and socializing. If the temptation is too great, or you simply have to have your hourly beep and every email notification go off as loudly as possible, leave it at home. Even the very best suit can't salvage bad manners!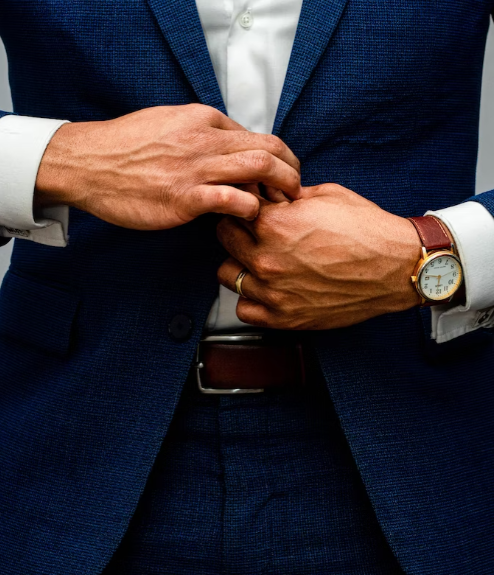 Hopefully, you now feel much more confident about how to wear a watch with a suit, how to choose the best colors and looks for the occasion, and how to finish the sophistication of your suit with the right wrist accessories. If you have any other questions, the Oliver Wicks experts are always here to help, so reach out to us at custom@oliverwicks.com anytime.